South Sudan votes to secede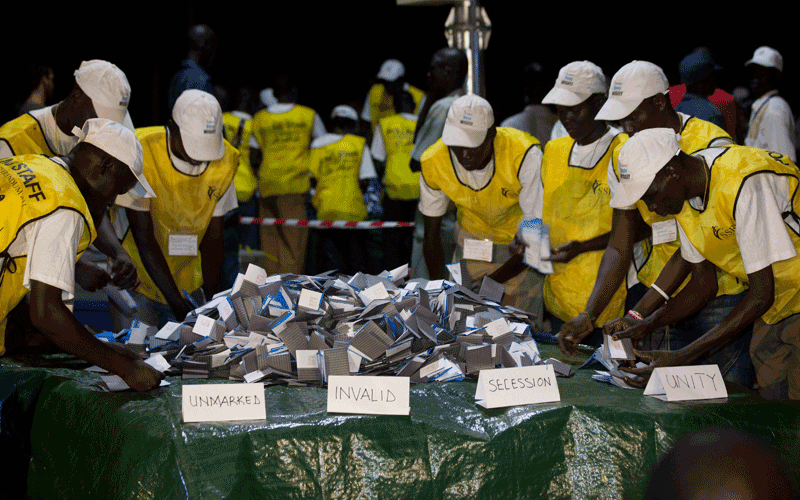 South Sudan achieved the simple majority needed to secede in its independence referendum, partial preliminary results collated by AFP showed on Wednesday, with many counties still to report.
With some states and counties reporting landslides of more than 99 per cent for separation of the mainly Christian, African south from the mainly Arab, Muslim north, the majority was achieved with some of the region's 10 states, including its most populous, Jonglei, yet to announce any results.
The figures gathered from state and county referendum officials showed that 2,198,422 votes for independence have already been returned. That comfortably exceeds the simple majority of 1.89 million votes needed on the 96 per cent turnout of the 3,932,588 registered voters.
In Lakes state, centred on Rumbek town which served as rebel headquarters during a 1983-2005 civil war with the north, 298,216 of 300,444 votes cast were for independence, a whopping 99.924 per cent.
Just 227 opted to remain united with the north -- 0.076 per cent -- with the balance made up by blank or invalid ballots.
In Central Equatoria, which includes the regional capital Juba and is the south's second most populous state, 449,321, or 98.2 per cent of the 457,452 votes cast were for secession. Just 4,985, or 1.09 per cent voted for unity.
In Western Bahr al-Ghazal state, home of another of the south's three big cities, Wau, 153,839 of 162,594 votes cast were for secession, or 94.6 per cent. There were just 7,237 votes for continued union.
In neighbouring Warrap state, with six out of seven counties reporting, there were 468,858 votes for independence, or 99.5 per cent, of the 469,579 votes cast against just 167, or 0.036 per cent, for unity.
In Northern Bahr al-Ghazal, with four counties reporting, there were 264,473 votes for secession, or 99.65 per cent, against just 473 for union.
In Unity state, the south's main oil-producing area, with 472,000 votes collated, organisers reported more than 471,000 votes for independence and a mere 91 for unity.
In Torit county, a wartime rebel bastion in Eastern Equatoria, 66,436, or 99.67 per cent of the 66,652 votes cast were for secession against 90, or 0.14 per cent, for unity.
In Maridi county in Western Equatoria, there were 26,369 votes for secession against just 266 for unity.
In the regional capital Juba, a once sleepy town now poised to become the world's newest national capital, cheers and applause rang out as the head of the county's referendum sub-committee, Timon Wani, announced a 97.5% majority for independence, which he hailed as a "historic event".
"This is a great result," said Mohammed Lowala, who was among the crowd.
"You cannot get a decision more clear that the south wants to be free than 97.5 per cent," he said. "The people of Juba county have spoken for independence and I am sure that the rest of the south will follow."
As he waited for the announcement, local resident William Moro said: "We know the result is for separation because that is what everyone wants.
"But hearing the results announced to make it official will be very exciting -- to have the piece of paper to show the north."
The final result is not expected before next month after the state results have been collated at regional level and added to those southerners who voted in the north or in eight countries of the diaspora.
"We are being methodical to make sure all the rules are respected -- and that takes time, of course," said Aleu Garang Aleu, a spokesman for the Southern Sudanese Referendum Bureau, which is running the vote in the south.
In Jonglei, which is among the region's most war-ravaged states as well as being its most populous, referendum officials said they were still waiting for the ballots to be brought in from the counties to being compiling preliminary returns.
Southern leaders have warned against any premature celebration or triumphalism that might undermine hopes of a velvet divorce from the north after five decades of conflict, and there were no organised celebrations of the results beginning to flood in.
"Don't dance and beat drums and celebrate before the baby is born in case there may be a miscarriage," information minister Barnaba Marial Benjamin said on Tuesday.
Follow Emirates 24|7 on Google News.