Student dies after Khartoum clashes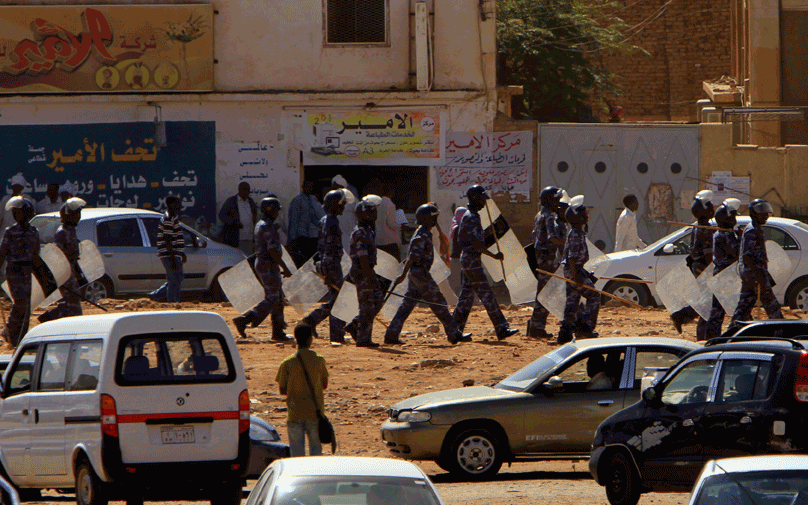 A student beaten by police during violent anti-government demonstrations in Khartoum has died of his wounds in Omdurman hospital, protesters said on Monday.
"Mohammed Abdulrahman, from Ahlia University, died last night in Omdurman hospital as a result of his ... wounds after he was beaten by police," an activist who took part in Sunday's protest told AFP.
"This morning (Monday) both Ahlia University and the Islamic University of Omdurman have been closed by a government decision," added the activist, speaking on condition of anonymity.
Sunday's demonstrations followed calls by the "30 January" Facebook group for Sudanese youth to take to the streets and stage peaceful anti-government rallies across Sudan.
The Facebook group, which boasts around 17,000 members, confirmed Abdulrahman had died, referring to him as a "martyr" who followed in the footsteps of another student killed in the October 1964 popular uprising that toppled the military regime then in power.
"Al Gorashy was a martyr for us. And you are our martyr now, Mohammed Abdulrahman," it said in large red lettering.
Protesters on Sunday were confronted by a heavy police presence in different parts of Khartoum and its twin city Omdurman, and in El-Obeid, around 600 kilometres west of the capital.
The ensuing clashes resulted in at least 64 arrests and left many wounded.
EgyptAir cancels flights overnight on Tuesday

Egypt's national carrier EgyptAir has cancelled flights from 5pm local time on Tuesday to 10am on Wednesday, state television said.
Egypt has been in tumult over the past week as thousands protest daily against the rule of President Hosni Mubarak.
The stock market, banks and most businesses have been closed and the army imposes a night curfew.
Assad says Syria not changing course after Egypt
President Bashar Al Assad said there was no chance the political upheaval shaking Tunisia and Egypt might spread to Syria, which has been controlled by his Baath Party for the last five decades.
In an interview with the Wall Street Journal published on Monday, Assad said that Syria's ruling hierarchy was "very closely linked to the beliefs of the people" and that there was no mass discontent against the state and no need to change policies.
"This is the core issue. When there is divergence between your policy and the people's beliefs and interests, you will have this vacuum that creates disturbance," Assad said, adding the priority was stability and a gradual opening of the economy.
"So, security becomes first; how can you stabilize your country, how can you prevent your society from extremists... Second, economy, this is the second urgent priority."
Maersk suspends business in Egypt
Danish shipping and oil group AP Moeller-Maersk said Monday it was suspending activities in Egypt, amid growing fears over the unrest rocking the country, but said ships would continue sailing the Suez canal.
"We have closed our offices and our container terminal today, and we will evaluate the situation again on Tuesday to determine if we can reopen them or need to keep them closed," company spokesman Michael Christian Storgaard told AFP.
The decision affected all AP Moeller-Maersk activities, including that of its subsidiaries Safmarine and Damco. The world-leading container transporter employs some 7,000 people in Egypt, where its activities include the Suez Canal Container Terminal (APM Terminals) at Port Said, a 50-per cent-holding in the Egyptian Drilling Company and shipping logistics, with Maersk Line, Safmarine and Damco.

No direct threat to Suez shipping-Lloyd's
No direct threat to ships passing through the strategic Suez Canal waterway exists at the moment, despite unrest in Egypt, a senior official with London's marine insurance market said on Monday.
"We are not seeing anything that would give us any particular cause for concern at this stage," said Neil Roberts, a senior technical executive with the Lloyd's Market Association (LMA).
The LMA represents the interests of all underwriting businesses in the Lloyd's market.
"There is no direct to threat to ships that we can see and it would be counter intuitive for the Egyptians to do anything with Suez that would stop their flow of trade," Roberts told Reuters.
Follow Emirates 24|7 on Google News.