Stunt pilots in devastating air crash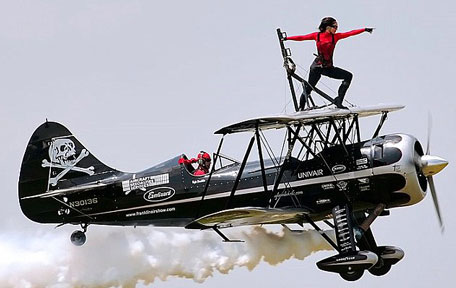 A husband and wife stunt pilot team are in hospital after a shocking crash at an air show left the pair with 60 per cent body burns.
Kyle and Amanda Franklin were performing a daredevil plane walk at the show in Brownsville, Texas, when the engine caught fire and sent the aircraft plummeting, reports Daily Mail.
It was almost a case of history repeating itself, because both Kyle and Amanda's fathers – who were stunt pilots – died in a mid-air collision six years ago.
The couple has pulled off a successful practice session on Thursday in preparation for the weekend's showcase, but onlookers watched in horror as the plane crashed, leaving a trail of white smoke behind it.
The Air Fiesta Air Show was suspended for the rest of the day as the pair were rushed to hospital. Organisers said they 'suffered severe burns following the crash.'
A Federal Aviation Administration spokesman Lynn Lunsford said: 'The female wing-walker was able to get back into the airplane, but the plane crashed into a thicket near the runway.'
Spectator Audria West told Action 4 News: 'They said something about the engine shutting down, that [the pilot] was coming down at a slope and he couldn't get back up.
"I actually cried - it was a little traumatizing just to be so excited and then to see that happen. I mean, I'm sure it happens, but it was a horrible experience.'
Amanda, who suffered severe burns throughout her body was rushed to a San Antonio hospital, with pilot Kyle taken to a local hospital.
Just days before the fateful accident in their 1940 Waco plane they call the Mystery Ship, daubed with skull and crossbones, Amanda told the Brownsville Herald: 'We both have such a passion for flying. It's in our blood.
Stunts: Amanda Franklin, right, and husband Kyle have been performing together for five years aboard their modified 1940 Waco plane (COURTESY: FACEBOOK)
'There is risk in what we do. We acknowledge that. We take every precaution that we can to eliminate the risk to make it safe.
'But if you live your life in fear that something could go wrong, you're not living your life.'
Brownsville South Padre Island International Airport and the FAA are now investigating.
The pair started seeing each other in May 2004, having met at an air show.
They married in 2005, three months after their fathers died in a similarly horrific crash. Bobby Younkin and Jimmy Franklin were good friends and had flown together on numerous occasions.
But in on July 10 2005 at an air show in Canada, the pair – who were flying separate planes – collided with each other and were both killed.
Kyle and Amanda's website explains: 'Their love rose from the ashes of the plane wreckage and their abilities as an air show act are a testament to the ongoing legacy of a family fated to continue dancing on wings of airplanes.'
Their death defying air antics see the couple dressed as pirates, having sword-fights from the top of their planes in routines they call Pirated Skies.
The Waco plane they used was built in 1940 and originally used to train civilians as pilots before America's entry into World War II.
Follow Emirates 24|7 on Google News.