Sweden questioning seven people over deadly truck attack -police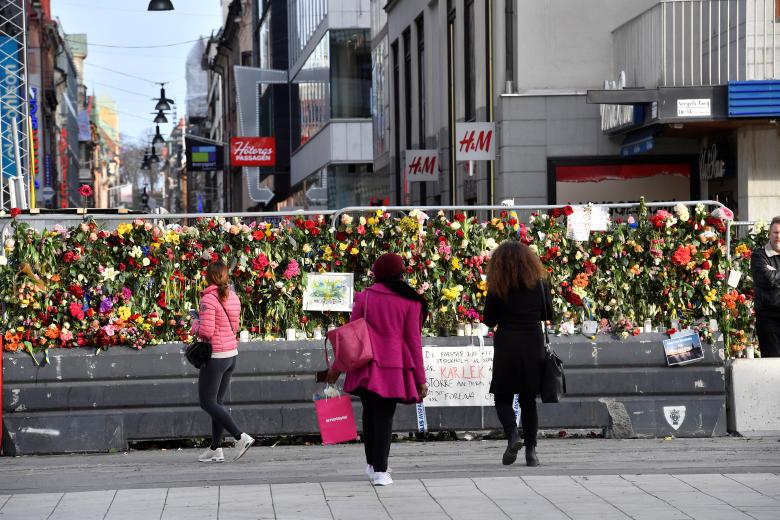 Swedish police have brought in seven people for questioning over an apparent terror attack in which a hijacked delivery truck mowed down pedestrians in Stockholm, killing four people, authorities said on Sunday.
A 39-year-old Uzbek man was arrested earlier as the suspected driver of the truck that rammed into crowds in the Swedish capital on Friday.
The man had been known to Swedish security services but had no clear links to militant groups.
A further 15 people were injured when the beer delivery truck barrelled down a busy shopping street before crashing into a department store and catching fire.
"Seven people have been brought in for questioning as a result of these events," Jonas Hysing, national head of police operations, told public broadcaster SVT, after several raids on addresses around Stockholm over the weekend.
Hysing declined to give further information about the raids, but said "the evidence looks very strong" that the Uzbek man was the driver of the hijacked truck.
Vehicles have also been used as weapons in Nice and Berlin in the past year in attacks claimed by Islamic State militants.
Stockholm was returning to normality on a bright Sunday morning with police barricades taken down along the Drottninggatan street where the attack took place.
Hundreds of flower bouquets covered steps leading down to the square next to where the truck ploughed into the Ahlens department store, with more piled up under boarded-up windows.
Ten of the injured people remained in hospital, two of them in intensive care, Stockholm authorities said. Police said they had now identified three of the four dead.
A memorial service was planned in Sergelstorg, the central square next to Drottninggatan, at 2 p.m. (1200 GMT).
Sweden has long taken pride in its tolerant liberal democracy and been among the world's most welcoming nations to immigrants. But some Swedes are having second thoughts after more than 160,000 people, many from Syria, applied for asylum in 2015 in a nation of just 10 million.
Follow Emirates 24|7 on Google News.