Syria army assault on protest hub 'kills over 200'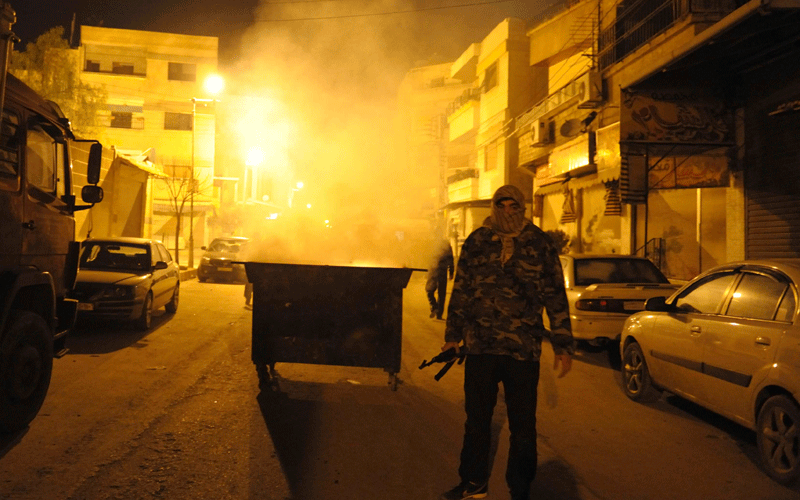 Syrian forces bombarded the protest city of Homs on Saturday, killing more than 200 civilians in a "horrific massacre", activists said, as Russia again cast doubt on a UN vote condemning months of bloodshed.
The Syrian government denied involvement in the early morning assault, blaming groups trying to incite unrest ahead of Saturday's vote, as television images showed bodies and buildings destroyed in a city turned into a war zone.
Opposition groups put the death toll at between 217 and at least 260; if confirmed, this would mark the deadliest incident in a 10-month uprising against the regime of defiant President Bashar al-Assad.
"Assad forces randomly bombed residential areas in Homs, including Khaldiyeh and Qusur, which resulted in at least 260 civilians killed and hundreds of wounded, including men, women, and children," the Syrian National Council said.
The "Assad regime committed one of the most horrific massacres since the beginning of the uprising in Syria," it said in a statement.
Assad's forces also "bombed" the flashpoint northern town of Jisr al-Shughur, near the border with Turkey, as well as suburbs of Damascus, it said.
Al-Jazeera and Al-Arabiya television channels showed dozens of bodies and scenes of chaos as tweets claiming to be from residents said Homs "is bleeding" under the bombardment, one counting "366 explosions tonight so far."
"It's a real massacre," Syrian Observatory for Human Rights director Rami Abdel Rahman told AFP, calling for the "immediate intervention" of the Arab League to end the killing.
The Observatory said its count was at least 217 people dead and several hundred wounded in the city, a flashpoint of the Syrian uprising which follows others in the Arab Spring revolt that began more than a year ago.
Al-Jazeera said witnesses spoke of nail bombs raining down and incessant shelling, while one resident, Danny Abdul Ayem, reported "non-stop bombardment ... by tank shells and mortar bombs."
A medical student told Al-Jazeera the local hospital was struggling to cope.
"There is a lack of blood, a lack of oxygen ... there is danger in the streets," he said. "We are overwhelmed. We have opened the mosque next door" to receive wounded people, he said.
AFP was not immediately able to verify the authenticity of the videos nor of the opposition and residents' accounts because of restrictions on reporting in Syria.
The opposition groups again demanded the world act to end a campaign they say has killed at least 6,000 people since March, and angry protesters stormed Syrian embassies in Athens, Berlin, Cairo, Kuwait and London.
But the Syrian government denied its army had shelled Homs and accused television stations of "inciting" violence, the official SANA news agency said.
"The civilians shown by satellite television stations are citizens who were kidnapped and killed by armed gunmen," it said. It accused the gunmen of "wanting to use that information to (pressure) the Security Council".
A diplomat at the United Nations said the Security Council was expected to vote on a resolution of condemnation Saturday.
But there were new objections from Russia, which is against a resolution that can be used to justify foreign military intervention, call for Assad to quit or impose an arms embargo on Syria.
"The draft does not suit us at all and I hope that it is not put to a vote," Foreign Minister Sergei Lavrov said.
US Secretary of State Hillary Clinton is due to hold face-to-face talks with Lavrov Saturday, amid a renewed American push for passage of the resolution.
The Syrian National Council demanded Russia change its position and "clearly condemn the regime and hold it responsible for the massacres, to stop the killing in Syria."
Syrians must be allowed to "democratically elect a regime that ensures freedom and dignity for all Syrians," it said, calling on people to take to the streets again Saturday.
The new bloodshed follows violence across the country Friday after people defied the government crackdown to mark the 30th anniversary of a notorious 1982 massacre in the city of Hama ordered by Assad's father, Hafez al-Assad.
According to various estimates, between 10,000 and 40,000 people died during the 27-day 1982 onslaught he ordered against an Islamist uprising in Hama.
The Muslim Brotherhood, which is part of the Syrian National Council, called for an international probe into the "heinous massacre perpetrated in Homs" and for those responsible to be brought before the International Criminal Court.
"Assad has transformed Homs into a real battlefield, waging a war of extermination against his own people," Brotherhood spokesman Zuhair Salem said in a statement.
Follow Emirates 24|7 on Google News.