Tahrir Square rings in new year with fireworks and candles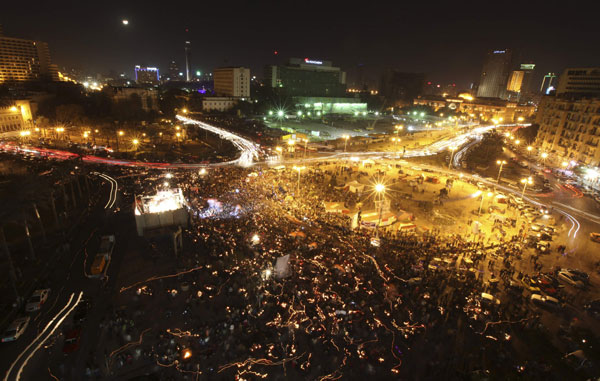 Thousands of Egyptians packed Cairo's Tahrir Square under a blaze of fireworks to ring in the New Year, capping a roller coaster year of political upheaval and deadly clashes but also the first steps towards democratic rule.
"We're here to welcome the New Year together, Christians and Muslims," said one woman holding an Egyptian flag.
"This is where the revolution started, and this is where it will continue," said another reveller.
Tahrir Square -- the symbolic heart of protests that toppled Hosni Mubarak last February and the scene of demonstrations and deadly clashes since -- was turned into a massive concert to commemorate the victims of the uprising.
Some carried posters of those who died, others held candles as the revolution's anthems blared through loudspeakers in the heart of the capital.
Muslim and Christian religious chants entertained the crowd as balloons in the colours of the Egyptian flag -- black, white and red -- hovered in the night sky.
Activists who helped launch the January 25 uprising had called for a candlelight vigil in the square to "remember all the martyrs, the wounded and those who are still detained, in the hope that the revolution continues and wins."
In a Facebook post for the event, they said they hoped that 2012 would be "the year of freedom."
In recent months, the square has been the epicentre of protests demanding the ouster of the ruling military council that took power when Mubarak was toppled.
The Supreme Council of the Armed Forces has pledged to hand power to a civilian authority when a president is elected by June, as part of a transition roadmap that saw the start of first legislative polls since Mubarak was ousted.
In a message posted on Facebook on Friday, the SCAF urged all Egyptians to work with security forces during the week of festivities in order to ensure calm.
The ruling military also vowed to protect the country's churches during the week of celebrations marking the New Year and Coptic Christmas, which falls on January 7.
Follow Emirates 24|7 on Google News.