Thai, Cambodia troops clash again, 1 killed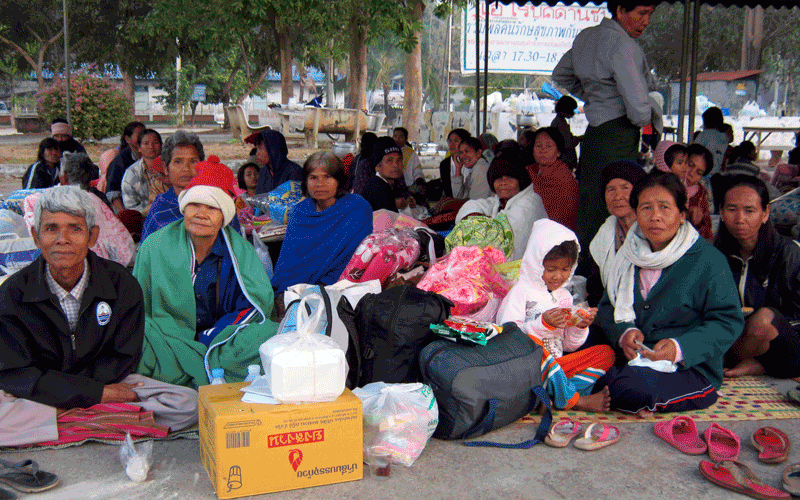 Thai and Cambodian soldiers exchanged fire for a second day on Saturday in a brief clash that killed at least one Thai soldier, the latest flare-up in a long-running feud over land around an 11th-century temple.
Thai army spokesman, Col Sansern Kaewkamnerd, said one soldier was killed and four were wounded in the 4.6-sq-km disputed area around the 900-year-old Preah Vihear temple, a jungle-clad escarpment claimed by both countries.
Fighting began around 6:15 a.m. (2315 GMT Friday) and lasted for 25 minutes, involving rocket-propelled grenades and gunfire, he said. "We are optimistic we can agree to a ceasefire," he said, accusing Cambodian troops of firing first.
That followed an intense two-hour clash on Friday in which two Cambodian soldiers and a Thai villager were killed, the first fatalities in the militarised border area since a Thai soldier was shot dead on Jan. 31, 2010, rekindling tensions.
The Thai Foreign Ministry accused Cambodia of engaging in "an act of aggression" in "clear violation of the Thai sovereignty and territorial integrity."
Cambodia accuses Thailand of invasion and plans to file a complaint with the UN Security Council.
The Thai government said 3,000 civilians were evacuated during Friday's fighting.
The latest clash comes four days after a Cambodian court handed down jail terms of six and eight years to two Thai nationalists found guilty of trespassing and spying in the border region, a verdict that has angered some in Thailand.
Even before the fresh tensions, the country's "yellow shirt"activists, known as the People's Alliance for Democracy (PAD),were leading a campaign demanding Prime Minister Abhisit Vejjajiva take a tougher line against Cambodia. But Deputy Prime Minister Suthep Thaugsuban said on Saturday Thailand does not want "the situation to escalate." "I also urge the alliance (PAD) to tone things down," he said.
The temple, known as Preah Vihear in Cambodia and KhaoPhraViharn in Thailand, sits on land that forms a natural border and has been a source of tension for generations.
The International Court of Justice awarded it to Cambodia in 1962 but the ruling did not determine the ownership of the scrubnext to the ruins, leaving considerable scope for disagreement.
Follow Emirates 24|7 on Google News.