The Sun in trouble... 8 staff arrested for bribery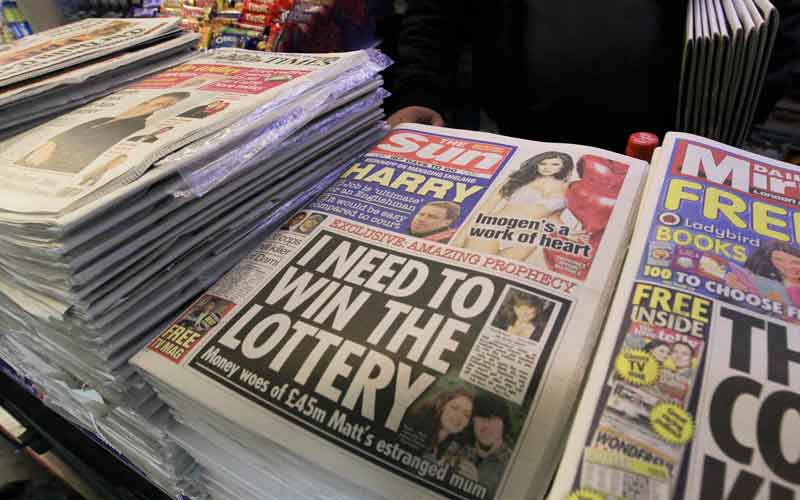 Britain's top-selling newspaper 'The Sun' was in crisis Saturday after police arrested five of its journalists over bribery allegations, but owner Rupert Murdoch vowed to keep publishing the tabloid.
A Ministry of Defence (MoD) official, a member of the armed forces and a policeman were also arrested over allegations that journalists paid officials for information, police said.
Publisher News International said Murdoch had given a "personal assurance" that 'The Sun' would not face the same fate as its sister paper, the 'News of the World', which he closed in July amid a scandal over phone hacking.
The tycoon will travel to London to meet with journalists, a person familiar with the situation told AFP, without saying when.
The arrested 'Sun' journalists were deputy editor Geoff Webster, picture editor John Edwards, chief reporter John Kay, chief foreign correspondent Nick Parker and reporter John Sturgis, 'News International' said. In an email to staff, 'News International' chief executive Tom Mockridge said the company was facing its "greatest challenge".
"You should know that I have had a personal assurance today from Rupert Murdoch about his total commitment to continue to own and publish The Sun newspaper," he said.
Mockridge said he had also written to Britain's police watchdog to "seek clarification" about the independence of the police investigation. The tabloid's editor, Dominic Mohan, said he was "shocked" at the arrests but was "determined to lead The Sun through these difficult times".
The arrests come a fortnight after another four current and former Sun journalists were arrested and bailed over similar allegations.
Scotland Yard said it had now broadened its corruption probe, Operation Elveden, beyond payments to police, to include other public officials.
The five journalists were arrested in dawn raids at their homes in London and nearby areas on suspicion of corruption and of aiding and abetting misconduct in a public office, police said.
In the first cases of their kind, an MoD employee aged 39 was also arrested at her home in Wiltshire, southwest England, and a 36-year- old man serving in the armed forces was arrested in the same area.
The pair, reported by 'Sky News' to be an army officer and his wife, were held on suspicion of corruption, misconduct in a public office and conspiracy in relation to both offences. The MoD refused to comment.
A police officer in the county of Surrey, which borders London, was also arrested on suspicion of corruption and misconduct in a public office.
All eight were later released on bail.
Police said they had searched the offices of News International in Wapping, east London, and the homes of those held.
The arrests were sparked by information provided to police by the Management and Standards Committee set up by Murdoch's US-based News Corporation, Scotland Yard and the company said.
The National Union of Journalists condemned the detentions, as well as News International and what it called a "witch-hunt" against journalists. General secretary Michelle Stanistreet said: "Journalists are reeling at seeing five more of their colleagues thrown to the wolves in what many sense to be a witch-hunt."
She added: "Once again Rupert Murdoch is trying to pin the blame on individual journalists hoping that a few scalps will salvage his corporate reputation."
Police have now made 21 arrests in the corruption investigation, including Rebekah Brooks, the former News International chief executive, and Andy Coulson, the former spokesman for Prime Minister David Cameron.
Police have also made 17 arrests in the separate investigation into phone hacking, known as Operation Weeting.
'The Sun' has become Murdoch's flagship British newspaper since he bought it in 1969, selling around 2.5 million copies a day with its diet of sex and scandal.
The editor of another Murdoch paper, 'The Times', apologised on Tuesday on behalf of a former reporter who allegedly hacked the email of a blog-writing detective.

Follow Emirates 24|7 on Google News.