Trump backs Republican plans to end family separation crisis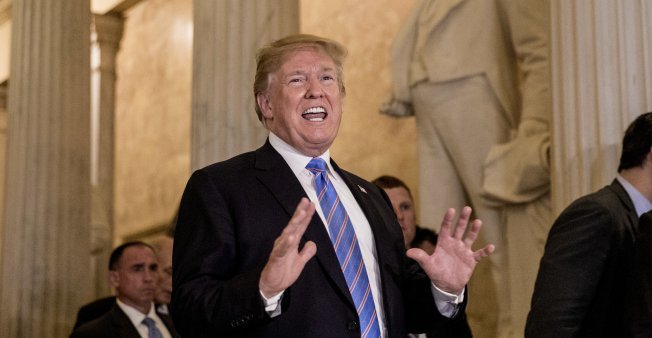 US President Donald Trump told Republican lawmakers Tuesday he backed their efforts to craft an immigration solution that ends the politically toxic practice of separating families on the US-Mexico border.
Just hours after doubling down on his administration's much-derided policy that triggers separations of migrant children from their parents, Trump braved frustrated and in some cases angry fellow Republicans to assure he wanted their swift resolution to the crisis.
While top officials have stood by Trump's "zero tolerance" approach, insisting children are being held in humane conditions, criticism has swelled from international rights groups, Christian evangelicals, former US first ladies and the president's own Republican Party.
Democrats who have visited minors in detention in Texas and California describe crying children held in cage-like conditions behind chain-link fencing, with no idea when they will see their parents again.
An audio recording purported to feature Central American children separated from their parents sobbing and wailing has also struck a nerve.
With emotions running high, a handful of House Democrats protested the Trump meeting, yelling out at Trump in a rare face-to-face demonstration against a president by sitting members of Congress.
"Quit separating the kids!" Juan Vargas, a Democrat from southern California, shouted as Trump exited the meeting. "Mr President, don't you have kids?"
Republican lawmakers emerged from the 45-minute huddle energized that Trump was giving his backing to legislation that House leaders expect to bring to a vote this week.
It contains several of Trump's main priorities, including border wall funding, protecting young "Dreamer" immigrants who were brought to the country as children and curbs on legal immigration programs such as an end to the visa lottery.
House Republican Mario Diaz-Balart said the priority of ending the separations has been slotted into a compromise bill currently under consideration and favored by GOP moderates.
"Not only does he support the compromise bill, but he backs it all the way," Diaz-Balart said of Trump.
But even after the meeting, it was unclear whether Trump favored that bill over a more hardline measure supported by conservatives.
White House spokesman Raj Shah said Trump "endorsed both House immigration bills" during the meeting, adding that they "solve the border crisis and family separation issue by allowing for family detention and removal."
"I'm with you 100 percent," Trump said, according to Shah.
Several Republicans have said the more conservative plan is doomed, and that Trump's address was helpful in unifying the divided caucus.
"We're going to have work to do" to get the compromise across the finish line, said number three House Republican Steve Scalise.
Earlier in the day, a defiant Trump sounded unfazed by the mounting pressure to alleviate the situation before it ruptures into a public relations disaster for his party.
'Take the children away'
"I don't want children taken away from parents," he told a gathering of small business owners, before adding: "When you prosecute the parents for coming in illegally, which should happen, you have to take the children away."
Trump has accused Democrats of provoking the current crisis by blocking legislation to combat illegal immigration.
But Democratic leaders have pushed back. Senator Chuck Schumer said the president "continues to try to use these separated families as hostages in the legislative process."
Calling for an immediate fix, Schumer added: "The president can end this crisis with the flick of his pen, and he needs to do so now."
Senate Republicans are also moving to block Trump's policy.
A group led by Senator Orrin Hatch wrote Attorney General Jeff Sessions demanding a pause in separations, while Senator John Cornyn was drafting "emergency" legislation to allow families to remain intact while their cases are adjudicated.
The United Nations has slammed the separation practice as unconscionable, while Amnesty International blasted it as "nothing short of torture." Mexico's foreign minister condemned it as "cruel and inhuman."
The issue risks becoming a political nightmare several House Republicans who face tough re-election fights in November. Some may worry that public outrage over the family separations could hurt their chances.
Follow Emirates 24|7 on Google News.