Trump to cut Central America aid as migrant caravan rolls on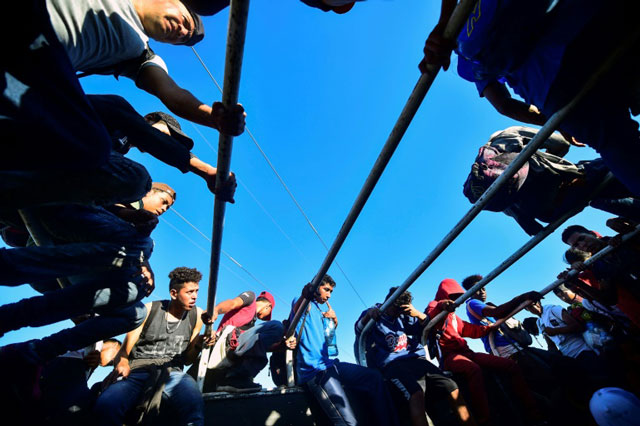 President Donald Trump said Monday the United States will start cutting aid to three Central American countries as a caravan of thousands of mostly Honduran migrants rolled on toward the US border.
The United Nations said more than 7,000 people were now heading toward the United States, as more migrants joined the original group, including some Central Americans who were already in Mexico.
Trump meanwhile kept up his almost-daily Twitter attacks on the approaching caravan, calling it a national emergency and saying he had alerted the US border patrol and military.
"We will now begin cutting off, or substantially reducing, the massive foreign aid" that the United States gives Guatemala, Honduras and El Salvador, said the president - who has seized upon the crisis in the run-up to US midterm elections, reviving the immigrant-bashing rhetoric that helped get him elected in 2016.
"Sadly, it looks like Mexico's Police and Military are unable to stop the Caravan heading to the Southern Border of the United States. Criminals and unknown Middle Easterners are mixed in," he added.
Mexico's Interior Minister Alfonso Navarrete vowed his country would not bow to "any government that intends to provoke a hostile reaction in Mexico," saying leaders there would "continue to call for dialogue."
Mexican authorities had managed to block the migrants on the Mexico-Guatemala border after they burst through a series of barriers on the Guatemalan side on Friday. But many later crossed the river in makeshift rafts before marching north.
Late Monday Mexico allowed several hundred Honduran migrants who are part of the caravan into its territory, an immigration official told AFP.
The caravan resumed its journey Monday in the state of Chiapas in southern Mexico, setting out from Tapachula, near the border, for the town of Huixtla, around 40 kilometers (25 miles) away.
Many of the migrants had spent the night on the town square or the street, wary of official shelters. They set out on foot or hitched rides with passing cars and trucks.
Follow Emirates 24|7 on Google News.