Tunisia PM to announce new government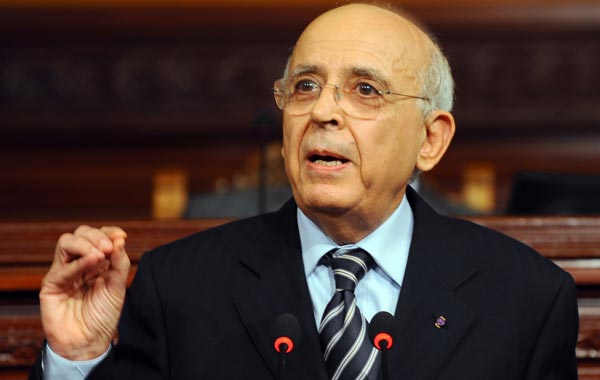 Tunisia's prime minister promised to announce a new coalition government on Monday, hoping to maintain the momentum of political progress to ward off fresh protests and also undercut gunmen loyal to the ousted president.
Tunisian special forces fought a gun battle with the ousted president's security force near the presidential palace on Sunday, a military source said, two days after Zine al-Abidine Ben Ali was ousted after more than 23 years as president.
But Prime Minister Mohamed Ghannouchi promised rapid action to fill the power vacuum.
"Tomorrow we will announce the new government which will open a new page in the history of Tunisia," he said in a brief statement on Sunday.
Three opposition leaders would take posts in the new coalition, two sources close to negotiations on building the new government told Reuters. But the interior and foreign ministers in the old administration will keep their jobs.

While die-hard Ben Ali loyalists fought the army at the presidential palace, elsewhere two gunmen stationed on a rooftop near the central bank were killed by fire from a helicopter.
Tanks were stationed around the capital, Tunis, and soldiers guarded public buildings.

FREE ELECTIONS PROMISED
As night fell residents of Tunis blocked off roads with makeshift barriers of tree branches and rubbish bins to protect their property from looters.
"We came out on the streets and dressed in white vests so we can identify one another. We told the police in the neighbourhood that we are here and we're dressed in white -- it was during curfew hours ... some brought sticks and we collected rocks," one man told Reuters.
The protests that forced Ben Ali to flee have died down, but the politicians, many of them former supporters of the ousted president, need to maintain the momentum of progress towards promised polls or face a renewed challenge from the street.
Najib Chebbi, founder of the Progressive Democratic Party (PDP), which opposed Ben Ali, will become regional development minister in the new government, the sources close to the negotiations said. Opposition leaders will also get the higher education and health portfolios.
Ahmed Friaa, a former academic and junior minister appointed interior minister only last week when Ben Ali fired the previous incumbent during the rioting, would stay in his job, they said.
Speaker of parliament Fouad Mebazza, sworn in as interim president, had asked Ghannouchi to form a government of national unity, and constitutional authorities said a presidential election should be held within 60 days.
Opposition parties wanted assurances that presidential elections would be free, that they would have enough time to campaign, that the country would move towards greater democracy and that the power of the ruling RCD party would be loosened.
Chebbi said on Saturday that elections could be held under international supervision within six or seven months.
Follow Emirates 24|7 on Google News.