Tunisia's Ben Ali finds refuge in Jeddah palace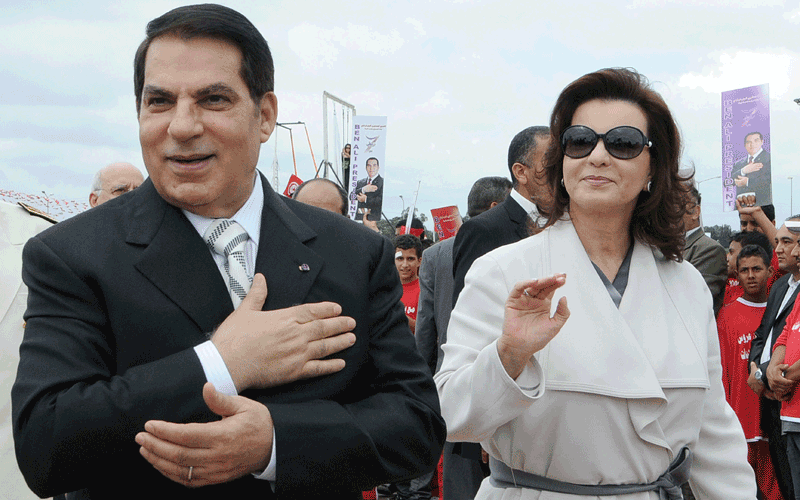 Former Tunisian President takes refuge in Saudi's Jeddah; Ben Ali and family living in palace guarded by soldiers; Saudi Arabia has history of hosting deposed rulers
Behind a high wall in a palace guarded by soldiers, Tunisia's former President Zine al-Abidine Ben Ali and his family have found a home in Saudi Arabia after being swept from power in Tunis.
Following weeks of violent protest, Ben Ali, president for more than 23 years, fled to the Red Sea port city of Jeddah on Friday, arriving late at night after France turned him away.
The Saudi government welcomed Ben Ali and his family but did not say how long they would stay in the Gulf Arab kingdom.
The US ally only said it had based its decision on "exceptional circumstances" in Tunisia and hoped the country would overcome its difficulties. Tens of people have been killed in a surge of protests over police repression and poverty.
Soldiers at one of the palace's seven gates to grounds adorned by palm trees and greenery ensure that that Ben Ali and his family are not disturbed by reporters or unwanted visitors.
"He came here last night with his family. They are here now but we are under strict orders not to allow anyone to see him," said one captain standing guard at a side gate to the palace.
Built in one of the coastal city's most prestigious districts for the late King Faisal, the palace now hosts visiting heads of state.

NOT FIRST EX-RULER IN JEDDAH
The kingdom has a history of receiving deposed rulers and out-of-favour politicians such as former Uganda dictator Idi Amin who spent his final years in Jeddah.
Saudi Arabia is an absolute monarchy applying an austere version of Sunni Islam called Wahhabism but life in Jeddah is much more relaxed than in the rest of the country.
Men and women from different families can mix in Jeddah, known for its Red Sea promenade and beaches, without hassle from religious police, a sharp contrast to the capital Riyadh.
Amin lived in a villa on a government stipend, with four wives and many children. Despite appeals by his hosts to keep a low profile locals often spotted him in shopping malls and upmarket gyms. He died in 2003.
Former Pakistani Prime Minister Nawaz Sharif also lived from 2000 to 2007 in Jeddah after being overthrown in 1999.
Saudi political analyst Turad Al-Amri said the kingdom had welcomed Ben Ali to help stabilise Tunisia.
"He will end up somewhere but as Saudi Arabia is a neutral country, does not have sensitive issues with Tunisia and is not a neighbour like Algeria they are helping the Tunisian people decide the next move," Amri said.
But some residents of Jeddah fear that welcoming a deposed Arab leader will damage the kingdom's reputation.
"I think it is a bad move. These kind of things are taken as representing the ideology of the ruling class. It encourages dictators and sends the message that if they do something bad they can find a way out of the mess they created," said a Saudi woman in her early 20s.
Riyadh-based government critic Mohammed al-Qahtani agreed.
"It shows the extent of close cooperation between Arab regimes," said Qahtani. "It gives the wrong message that Saudi Arabia gives refuge to such a dictator."
The violence and rapid turn of events in Tunisia sent shockwaves across the Arab world, where authoritarian rulers are deeply entrenched, but face pressures from growing young populations, economic hardship and the appeal of militant Islam.
Follow Emirates 24|7 on Google News.