Tunisia's new leader takes power amid chaos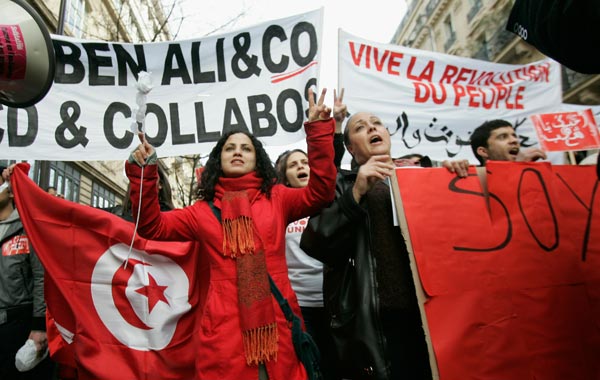 Tunisia's new acting president pledged an open political system on Saturday following the abrupt end of former strongman Zine El Abidine Ben Ali's 23-year rule as the Arab state veered towards chaos.
Soldiers and tanks were deployed around the capital Tunis after extensive looting of shops and homes and vandals set fire to the main railway station.
The crackle of gunfire echoed in the largely deserted streets of the city centre, which was sealed off by security forces to prevent protests.
Tunisia has been under a state of emergency since Friday, which bans any public gatherings and imposes a strict dusk-to-dawn curfew.
After being formally sworn into office to take over from Ben Ali, 78-year-old speaker of parliament Foued Mebazaa said that all Tunisians "without exception" would now be able to take part in national politics.
"A unity government is necessary in the greater national interest," Mebazaa added, as the Constitutional Council declared that a presidential election should be held in two months' time.
The exiled head of the main Tunisian Islamist party, which was banned by Ben Ali, told AFP that he now planned to return to his homeland.
"The Tunisian intifada has succeeded in collapsing the dictatorship," said Rached Ghannouchi, leader of the Ennahdha party, speaking from London.
Meanwhile there were chaotic scenes in and around Tunis on Saturday.
Several luxury stolen cars were seen smashed and abandoned near Tunis and some shops and homes had been pillaged and burnt, with the violence appearing to target in particular the property of Ben Ali's family.
Soldiers were seen dragging dozens of suspected looters from their cars at gunpoint and loading them into trucks at a checkpoint outside the city.
In one incident, plainclothes police officers wielding wooden sticks and truncheons were seen chasing two suspected looters and beating them.
In Monastir in central Tunisia at least 42 prisoners were killed in a fire after one inmate set his mattress alight -- one of several attempted escape bids as inmates apparently sought to take advantage of the chaos.
Ben Ali signed his resignation on Friday and fled to Saudi Arabia after a wave of protests sparked by the suicide of a 26-year-old university graduate prevented by police from selling fruit and vegetables to make a living.
Human rights groups say dozens of people have been killed in the protests, which began last month and have since escalated into a popular movement against unemployment, poverty and the alleged corruption of the ruling elite.
International powers including European nations and the United States urged calm in Tunisia and called for democracy in the southern Mediterranean country after events that Tunisian Internet users have dubbed the "Jasmine Revolution".
France, once one of Ben Ali's closest allies and Tunisia's former colonial overlord, said that the people of Tunisia had "expressed their democratic will" and called for "free elections in the shortest time possible."
Thousands of jubilant Tunisians marched through the centre of Paris to celebrate Ben Ali's downfall. There were similar rallies in Belgium and Italy.
German Chancellor Angela Merkel said she backed "real democracy" in Tunisia, coupled with respect for human rights and freedom of the press and assembly.
"I appeal to you to use this deep break in Tunisia's history as a new departure," she told the new authorities in Tunis.
The Arab League said the overthrow of Ben Ali was a "historic" event.
The revolt in Tunisia "is the first popular uprising to succeed in removing a president in the Arab world," said Amr Hamzawy, an analyst at the Carnegie Middle East Centre based in Beirut.
"It could be quite inspiring for the rest of the Arab world."
There was a clear sense of relief among many Tunisians over the toppling of the widely-hated Ben Ali but also fears for the future of the country.
"After 23 years the people's rage just exploded," Farhat Hafayedh, 56, a retired factory worker in the town of Carthage near Tunis, told AFP.
"This is like the French Revolution.... It's the end of an era. I'm hoping there is real change. We can't continue like this," he said.
Cafes in the suburbs of Tunis were crammed with young men discussing the latest events and there were crowds outside the few grocery stores open.
Posters of Ben Ali had been torn down in many parts of the city.
Libyan leader Moamar Kadhafi, however, offered some support saying he regretted Ben Ali's fall, describing it as a "great loss" and adding that he believed he was still legally president under the constitution.
Ben Ali came to power in a bloodless coup in 1987 at a time of stagnation for Tunisia and was initially hailed by many for enacting liberal reforms but the lavish lifestyle of his inner circle sparked outrage in recent years.
As tensions have grown, thousands of holidaymakers have been evacuated from the Mediterranean nation's famous beach resorts, and Europe and the United States have advised their citizens against non-essential travel to the country.
Follow Emirates 24|7 on Google News.