Tunisian Islamist leader returns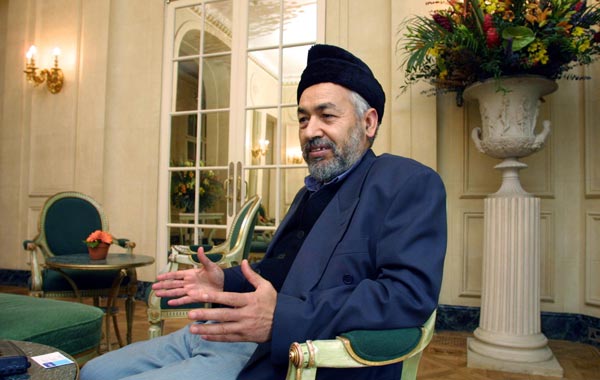 Tunisian Islamist leader Rached Ghannouchi is set to return to his homeland on Sunday from London after more than 20 years in exile, following the ousting of authoritarian ruler Zine El Abidine Ben Ali.
Ghannouchi's historic return comes as the new government installed after Ben Ali's downfall unveiled unprecedented democratic freedoms including lifting media controls, releasing political prisoners and registering banned parties.
The Islamist leader still officially has a life sentence from the old regime hanging over him for plotting against the state but in practice other convicted exiles have been able to return without any hindrance in recent days.
The government has drawn up an amnesty, which still has to go to parliament.
Members of Ghannouchi's Ennahdha (Awakening) movement, which was banned under Ben Ali, are expected to come to Tunis airport to greet him.
Spokesmen for Ghannouchi have said the leader is not expecting to return "triumphantly" and wants to return simply as "a free man".
He said earlier that he plans to let younger people take over Ennahdha.
He has also emphasised that he does not seek the presidency but wants to turn his movement which is still officially banned into a political party that will take part in the country's first democratic elections.
Tunisia's law prohibits any political parties based on religious grounds.
Ghannouchi founded Ennahdha in 1981 inspired by Egypt's Muslim Brotherhood but says it is now more like Turkey's ruling Justice and Development Party.
Some feminist groups however are worried that Ghannouchi's return signals a rise in political Islam that could endanger their hard-won rights.
"We're here to defend women's rights and to avoid a regression and to say that we're not ready to negotiate our liberty with the Islamists," Amel Betaib, a lawyer, said at a rally of hundreds of women in Tunis on Saturday.
Ghannouchi, 69, fled Tunisia shortly after Ben Ali came to power in a bloodless coup in 1987. In elections in 1989, which were heavily falsified, an Islamist-backed coalition still managed to win 17 percent of the vote.
Shortly after that, persecution of leading Islamists began and Ghannouchi fled first to Algeria and then to Britain. Hundreds of Islamist activists who stayed behind were thrown into prison, often on flimsy charges.
Follow Emirates 24|7 on Google News.