Turkey-Syria earthquake deaths pass 28,000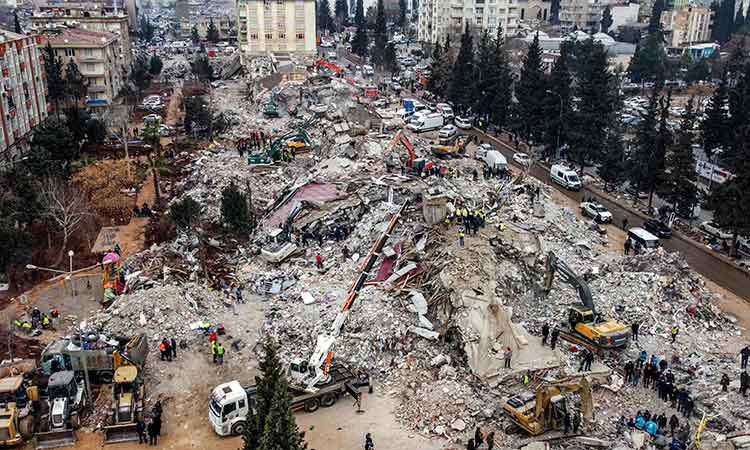 Rescuers pulled a seven-month-old baby and a teenage girl from the rubble on Sunday, nearly a week after an earthquake devastated Turkey and Syria and killed more than 28,000.
UN relief chief Martin Griffiths said he expected the death toll to at least double after he arrived in southern Turkey on Saturday to assess the quake's damage.
Tens of thousands of rescue workers are scouring flattened neighbourhoods despite freezing weather that has deepened the misery of millions now in desperate need of aid.
Security concerns led some aid operations to be suspended, and dozens of people have been arrested for looting or trying to defraud victims in the aftermath of the quake in Turkey, according to state media.
But miraculous tales of survival still emerged from the destruction and despair.
"Is the world there?" asked 70-year-old Menekse Tabak as she was pulled out from the concrete in the southern city of Kahramanmaras -- the epicentre of Monday's 7.8-magnitude tremor -- to applause and cries praising God, according to a video on state broadcaster TRT Haber.
A seven-month-old baby named Hamza was also rescued in southern Hatay more than 140 hours after the quake, while Esma Sultan, 13, was also saved in Gaziantep, state media reported.
Families were racing against time to find their missing relatives' bodies in southern Turkey.
"We hear (the authorities) will no longer keep the bodies waiting after a certain period of time, they say they will take them and bury them," Tuba Yolcu said in Kahramanmaras.
Another family clutched each other in grief at a cotton field transformed into a cemetery, with a seemingly endless stream of bodies arriving for swift burial.
Aid has been slow to arrive in Syria, where years of conflict have ravaged the healthcare system and parts of the country remain under the control of rebels.
WHO chief Tedros Adhanom Ghebreyesus took a flight full of emergency medical equipment into the quake-stricken city of Aleppo on Saturday.
Tedros toured damaged areas of the city and met two children who lost their parents in the earthquake.
"There are no words to express the pain they are going through," he tweeted.
Damascus said it had approved the delivery of humanitarian assistance to quake-hit areas outside its control in Idlib province and a convoy was expected to leave on Sunday. The delivery was later postponed without explanation.
The transport ministry said 57 aid planes had landed in Syria this week.
UN Secretary-General Antonio Guterres has urged the Security Council to authorise the opening of new cross-border aid points between Turkey and Syria. The council will meet to discuss Syria, possibly early next week.
Turkey said it was working on opening two new routes into rebel-held parts of Syria.
Follow Emirates 24|7 on Google News.