Two journalists murdered on 'live' TV [video]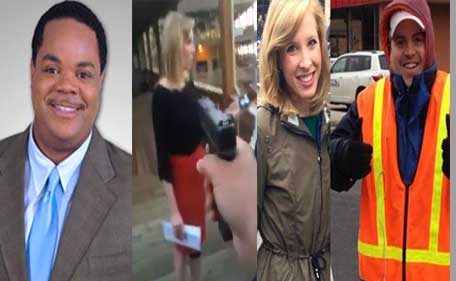 A former reporter fired by a Virginia television station shot dead two of its journalists during a live broadcast Wednesday and posted chilling footage of the crime online before fatally shooting himself.
Vester Flanagan appeared to have filmed the murders, drew a troubled portrait of himself in tweets after their deaths and a rambling 23-page manifesto sent to ABC news.
(Disclaimer: Disturbing visuals. Viewer's discretion advised.)
Also known on-air as Bryce Williams, the 41-year-old African American said he was seeking to avenge racial injustices and instances in which he believed himself to have been wronged, in documents that paint him as deeply troubled by racism and hungry for revenge.
Flanigan allegedly shot and killed at close range reporter Alison Parker, 24, and cameraman Adam Ward, 27, in the middle of a live interview early Wednesday.
The pair worked for Roanoke, Virginia CBS affiliate WDBJ where Flanigan was once employed -- and fired.
Flanagan fled the scene near a local lake, and his car was later found run off the highway, apparently after he shot himself. He died at a hospital in northern Virginia outside Washington.
This TV video frame grab courtesy of WHSV TV, in Harrisonburg,Virginia shows shooting suspect Vester Lee Flanagan, also known on-air as Bryce Williams. AFP
In a series of tweets, Flanagan offered a glimpse at his motivations, posting that "Alison made racist comments" and claiming that Ward had reported him to human resources.
Yet in a rambling manifesto received by ABC News, Flanagan said a recent deadly church shooting in Charleston, South Carolina, where nine black parishioners died, was what drove him over the edge.
"The church shooting was the tipping point... but my anger has been building steadily," he said.
"Why did I do it? I put down a deposit for a gun on 6/19/15. The Church shooting in Charleston happened on 6/17/15..."
This video frame grab from social media shows reporter Alison Parker (L) during an interview on tourism with Vicki Gardner, the local chamber of commerce director, in Bridgewater Plaza in Moneta, Virginia early August 26, 2015 moments before Parker was shot and killed by the gunman holding the weapon and apparently filming the scene. (AFP)
Shots and screams
Parker was talking to Vicki Gardner, head of the Smith Mountain Lake Chamber of Commerce, at the lakeside Bridgewater Resort in the town of Moneta near Roanoke when the attack occurred.
Several shots were heard, as well as screams, as Ward's camera fell to the floor, capturing a fuzzy and chilling glimpse of the gunman pointing his weapon at the ground.
The station then hastily cut away to a startled anchorwoman back in the studio.
This undated photo courtesy of WDBJ7-TV in Roanoke, Virginia shows Alison Parker and Adam Ward, two WDBJ7-TV employees, who were killed in an attack at Bridgewater Plaza in Moneta, Virginia on August 26, 2015. (AFP)
Later, a video posted under the Twitter account @bryce_williams7, showed the shooter brandishing a weapon at Parker, who was interviewing Gardner. Both she and Ward apparently did not see the shooter.
Multiple shots are then heard, and screams. Parker runs away.
The shooter's hand is clearly visible. He appears to be wearing a blue checkered shirt.
Gardner, 62, was in stable condition, according to Chris Turnbull, a spokesman for the hospital in Roanoke where she was being treated.
AFP
'Heartbroken'
The shooting, which took place not far from the scene of the Virginia Tech University mass killing in April 2007, launched a fresh round of hand-wringing about gun control in America.
Obama, who has talked openly about his frustration at not making headway in gun-control laws, said: "What we know is that the number of people who die from gun-related incidents around this country dwarfs any deaths that happen through terrorism."
Even in the face of mass shootings, US lawmakers have been hesitant to enact tougher limitation on access to arms, in part because they are loath to anger constituents who fiercely defend their constitutional right to bear arms.
"There are some common sense things that only Congress can do that we know would have a tangible impact," White House spokesman Josh Earnest told reporters.
Democratic presidential candidate Hillary Clinton said she was "heartbroken and angry."
'Difficult to work with'
Born in 1973, the San Francisco State University graduate and Oakland native said he had suffered throughout his career as a black, gay man.
In the manifesto, which Flanagan termed a "Suicide Note for Friends and Family," he complained of racial discrimination and bullying "for being a gay, black man."
Flanagan said in a tweet that he had filed a complaint against WDBJ's Parker, whom he shot.
"Vester was an unhappy man. We employed him as a reporter and he had some talent in that respect and some experience," WDBJ's general manager Jeffrey Marks said.
Flanagan joined the station in March 2012 and was dismissed in February 2013, escorted out the door by police.
"He quickly gathered a reputation of someone who was difficult to work with. He was sort of looking out for people to say things he could take offense to," Marks said.
"Eventually, after many incidents of his anger, we dismissed him. He did not take that well," he added.
Flanagan bounced in an out of jobs in journalism and other fields. Before being hired at WDBJ, he had spent eight years working outside of journalism.
From 1993 to 2005, he worked at KPIX, San Francisco's local CBS affiliate.
On his LinkedIn profile - registered under the name Bryce Williams - Flanigan wrote that he had worked at several television stations across the country since the mid-1990s as well as in marketing and customer relations.
Follow Emirates 24|7 on Google News.