UAE Keralites condole death of veteran orator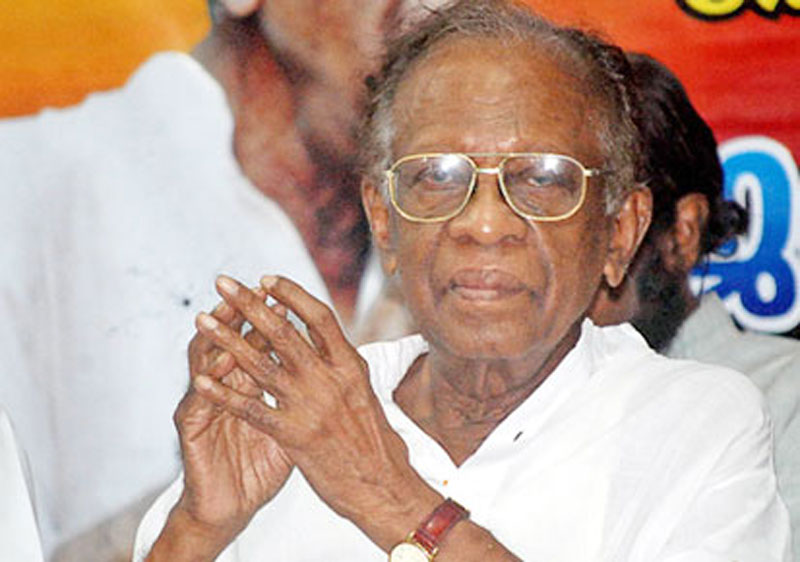 The Keralite community in the UAE is bereaved by the death of writer, orator, intellectual and academician Dr Sukumar Azhikkode, a multi-faceted stalwart who used to visit Gulf countries to participate in socio-cultural events.
Leading community members and associations are busy organising condolence meetings to commemorate the veteran author's contribution to the world of letters. Sukumar Azhikkode, 86, died of cancer at a private hospital in Thrissur, Kerala on Tuesday morning and was cremated on Wednesday morning with all the state honours.
Indian community associations in all the emirates of the UAE are also sending out condolence messages through various media channels including the social network media like facebook and twitter.
The speeches of Sukumar Azhikkode had been an integral part of major socio- political programmes organized by the overseas Keralite community in the Gulf countries. A frequent visitor to the UAE to participate in literary sessions and programmes, his last visit was to participate in a literary forum organised by the Indian Association Sharjah.
Says Jaleel Pattambi, editor of Middle East Chandrika: "Like many other Malayalam authors and the common folk, I too condole the death of Azhikkode whom I had met several years ago. I am deeply touched by the depth of his knowledge, oratory skills and simple Gandhian lifestyle. His death is an irreparable loss to the Malayali community, especially in the literary field. For the last six years, he had visited the UAE to participate in socio-cultural and literary programmes. He was such a simple man that he would use the same white khadi dress and would talk with any one who approached him. I am not a big figure in Malayalam literature, but Sukumar Azhikkode has visited my small house in Pattambi and even had lunch with me. I have met him three times and every time I met him, my admiration and love for Azhikkode Mash increased." He said the Indian media in the UAE paid tribute to the author, whose work' Thathwamasi' got 12 major literary awards. "He was such a person that he even rejected the Padmashree Award offered by the Indian Government. To devote more time for oratory, writing and social work, he did not even get married. He is the first person to advise me to bring out a collection of my writings as a book," Jaleel added. He was not at all a selfish man and he lived and worked for the community.|"
The Indian Association Sharjah said in a statement that the association condoles the death of the veteran author who paid his last visit to the UAE to participate in a writers' conference organised by the IAS. Indian television channels, radio stations, newspaper and the online media are also preoccupied with news of Azhikkode's death. He was admitted to the hospital 45 days ago and the veteran speaker did not want to undergo radiation therapy that would have affected his ability to make public speeches. Indian Association Sharjah officials and members have condoled his death. His last visit to the UAE was to participate in the Kunjuraman Nair Literary Forum organised by the Indian Association Sharjah.
Says E Satheesh, Bureau Chief, Asianet News and President of the Indian Media Forum. "Sukumar Azhikkode was an inspiration for Keralite youth. We used to travel long distances to hear speeches of the veteran orator. He will remain an inspiration for the Keralite community in the Gulf and back home."
K M Abbas, Editor-in-Charge of Siraj Daily, said he had experienced the warmth of Sukumar Azhikode's company. "The Keralite community has held in high esteem two unique voices –KJ Yesudas, veteran singer, and Sukumar Azhikkode, veteran orator. Outside the political sphere, no other personalities have been held in such high esteem and the death of Azhikkode Mash is a big loss to the community. Malayalis have always been lending their ear to the speeches and comments made by Azhikkode. He dominated the literary field also. His book, Thathwamasi, is a detailed study of the Vedas and Upanishads and his speeches were always rich with quotes from the Quran, Upanishads, Vedas and other classical works. His was the voice of Kerala," he added.

Various Malayalam radio stations in the UAE have organised special condolence programmes in which community leaders highlighted Azhikkode's contribution to Kerala's literary and socio-cultural field.

The social media, especially Facebook, is flooded with condolence messages for the deceased intellectual. Kerala Muslim Cultural Centre, Indian Overseas Congress, Indira Gandhi Veekshanam Forum, Indian Media Forum, Welfare Association of Kannur (Wake), Yuva Kalasamithi, Thanima, Overseas Indian Cultural Congress, Kerala Social Centre Abu Dhabi, various college alumni and Abu Dhabi Malayali Samajam, are some of the UAE-based Indian organisations that have expressed their condolences on the death Sukumar Azhikkode.

Follow Emirates 24|7 on Google News.