US presses Libya to halt crackdown, threatens action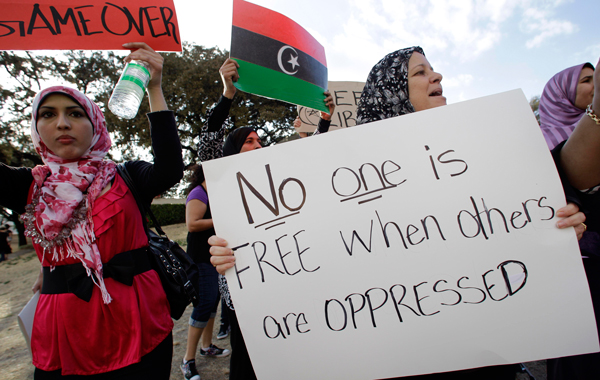 The United States on Sunday issued its strongest condemnation yet of Libya's violent crackdown on protesters, citing what it called credible reports of hundreds of deaths and injuries and threatening to take "all appropriate actions" in response.
The State Department said it had raised strong objections with Libyan ruler Muammar Gaddafi's government about the "use of lethal force against peaceful demonstrators" as the country has gotten caught up in a wave of unrest shaking the Middle East and North Africa.
With Washington stepping up pressure on Tripoli, one of Gaddafi's sons, Saif al-Islam, said on state television that his father would fight against the popular uprising to "the last man standing." But he also promised a dialogue on reforms and wage increases.
"We are analyzing the speech of Saif al-Islam Gaddafi to see what possibilities it contains for meaningful reform," a U.S. official said in Washington.
US President Barack Obama's administration also signaledthat the Libyan government might face consequences if it did not take heed of warnings to rein in its security forces and respect its citizens' right to protest.
"We are considering all appropriate actions," the US official said, without specifying what kinds of measures might be at Washington's disposal.
While denouncing the Libyan crackdown on demonstrators demanding an end to Gaddafi's four-decade rule, U.S. officials have stopped short of calling for a change of government in Tripoli.
The United States would appear to have far less leverage with Gaddafi than it has exercised in recent week with close U.S. allies like Egypt and Bahrain, where autocratic leaders gave ground in the face of U.S. criticism over political rights.
Gaddafi had been reviled by the West as a supporter of militants and revolutionary movements, but in recent years he has been trying to bring his oil-rich desert nation out of international isolation.
He has left little doubt, however, of his disappointment that the West has not embraced him more. The concessions he made to end U.S. and United Nations sanctions included renouncing banned weapons programs and handing over suspects in the 1988 bombing of Pan Am flight 103 over Lockerbie, Scotland.
Washington's few options in response to Gaddafi's protest crackdown might include reimposing some sanctions, possibly even touching on Libya's oil industry. But such moves would take time, would require a unified Western stand and could also hurt U.S. oil companies' interests.
Some Libya watchers have said the chances of an Egyptian-style nationwide revolt overthrowing Gaddafi was less likely because of his popularity in parts of the country and his ability to spread around Libya's oil wealth to smooth over social and political problems.
Despite that, Washington was paying close attention to fast-moving developments in Libya, where unrest spread to the capital Tripoli after after scores of protesters were killed in the east of the country.
Obama was being briefed regularly, and his administration was seeking "clarification" from senior Libyan officials about the actions of their security forces, the U.S. official said.
Gaddafi's son said earlier that the army stood behind his father as a "leader of the battle in Tripoli" and would enforce security at any price.
But Saif al-Islam also said the General People's Congress, Libya's equivalent of a parliament, would convene on Monday to discuss a "clear" reform agenda.
"The United States is gravely concerned with disturbing reports and images coming out of Libya," State Department spokesman P.J. Crowley said.
The State Department said US Embassy dependents were being encouraged to leave Libya and US citizens were urged to defer nonessential travel to the country.
Libya is a major energy producer with significant investment from Britain's BP, Exxon Mobil of the United States and Italy's ENI among others.
Follow Emirates 24|7 on Google News.