US, Russia new nuclear pact comes into force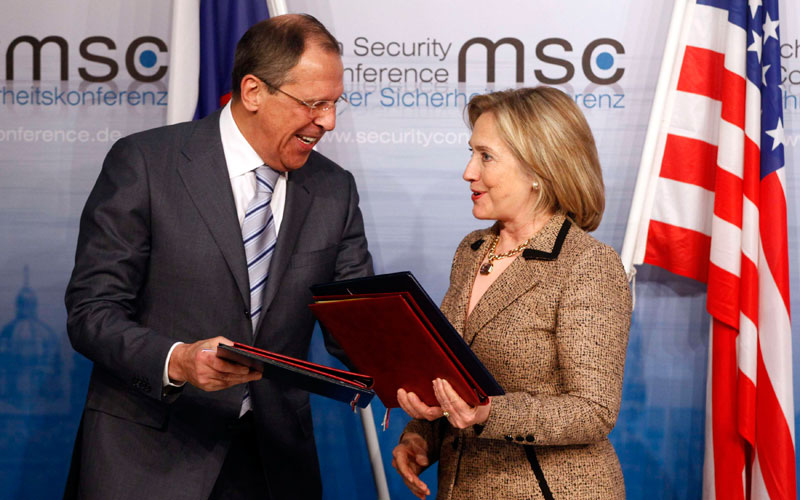 US Secretary of State Hillary Clinton and Russian counterpart Sergei Lavrov exchanged documents on Saturday formally bringing into force a landmark nuclear arms reduction pact.

"Today we exchange the instruments of ratification for a treaty that lessens the nuclear danger facing the Russian and American people, and the world," Clinton said at the ceremony at the Munich Security Conference.
The chief US diplomat hailed the pact as another example of "clear-eyed" cooperation between the two military powers, "part of a journey we have been taking for more than 60 years."
Lavrov told the Munich conference that the agreement would "enhance international stability."
US Vice-President Joe Biden used the same gathering of top defence officials in 2009 to state Washington's desire to press the "reset" button in relations with Russia, which had cooled under the presidency of George W Bush.
"When it comes to the button that has worried us the most over the years -- the one that would unleash nuclear destruction -- today we take another step to ensure that it will never be pushed," Clinton said.
The US administration has touted the new Strategic Arms Reduction Treaty as a key element in improving ties with Moscow as well as a major step in US President Barack Obama's vision of a world free of atomic weapons. The pact slashes existing warhead ceilings by 30 per cent over the next 10 years and limits each side to 700 deployed long-range missiles and heavy bombers.
The original 1991 pact expired at the end of 2009 amid stark differences over how the two sides planned to proceed.
Many analysts see the new round of cuts as largely symbolic, however, because the chances of these heavy long-range weapons being used today are negligible.
But the pact provides an important starting point for far more pertinent discussions concerning smaller -- but potentially more dangerous -- nuclear weapons and other high-tech arms.
The United States and Russia possess 90 per cent of the world's nuclear weapons.
Clinton said she would discuss "further arms control issues" with Lavrov, including on stocks of short- and medium-range missiles and non-deployed nuclear weapons.
The new START treaty will restore vital weapons verifications procedures and require the two sides to try to find a compromise over their diverging views on Nato's decision to erect a missile shield in Europe.
The US Senate and Russia's parliament adopted a series of non-binding amendments to the treaty that allowed each country to put their own spin on the first nuclear pact between the two former Cold War rivals in 20 years.
Most of the disagreements concern Washington's decision to push ahead with the European missile defence system, which it says is aimed at intercepting nuclear missiles fired from "rogue states" like Iran.
Russia, which fears that the missile shield may one day be turned into an offensive weapon, has agreed to explore the possibility of participating in the system but insists on being treated as an equal partner.
"We have made it absolutely clear we will not accept any constraints on our missile defences," Clinton said.
"The US government will do what is necessary to protect America, our forces, our allies and friends from attacks from countries outside of Europe."
Follow Emirates 24|7 on Google News.