Venezuela's epileptic patients struggle with seizures amid drug shortage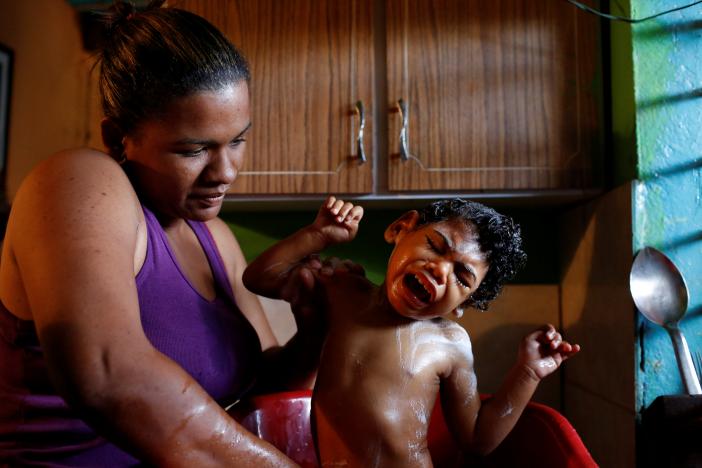 Venezuelan plumber Marcos Heredia scoured 20 pharmacies in one day but could not find crucial medicines to stop his epileptic 8-year-old from convulsions that caused irreparable brain damage late last year.
The once giggly and alert boy, also called Marcos, could no longer sit on his own and began to shut off from the outside world.
"I called people in the cities of San Cristobal, Valencia, Puerto La Cruz, Barquisimeto, and no one could find the medicine," Heredia, 43, said in the family's bare living room in a windy slum overlooking an international airport in the coastal state of Vargas.
"You can't find the medicines, and the government doesn't want to accept that."
Heredia ended up traveling 860 km (540 miles) by bus to the Colombian border to pick up medicine a cousin had bought him in the neighboring country. He was back at work the next day.
Venezuela's brutal recession is worsening shortages of medicines from painkillers to chemotherapy drugs.
With 85 of every 100 medicines now missing in Venezuela, anti-convulsants are among the toughest drugs to find, Venezuela's main pharmaceutical association said.
An estimated 2 million to 3 million Venezuelans suffer from epilepsy at some point in their lives, according to Caracas-based support organization LIVECE. Patients have been struggling to find specific anti-convulsive medicines as far back as 2012.
Due to untreated convulsions, progress has evaporated for otherwise functional people and those with severe disabilities who had managed to improve their mobility or speech.
Like Heredia, patients and families try anything they can to get hold of drugs: barter diapers, frantically engage in WhatsApp groups created specifically for pharmaceutical exchanges, use expired medicines or, if they can afford it, ask friends to bring them in from abroad.
But the shortages are so extreme that patients sometimes take medicines ill-suited for their conditions, doctors warn.
Neurologist Beatriz Gonzalez of LIVECE said she was worried about epileptic mothers giving birth to deformed children because they take the wrong medicine, or losing the child because they cannot find the drugs.
HEART IN MY MOUTH
The problem goes much further than just those with epilepsy. Unexpected convulsions can also afflict feverish children, accident victims or people with other neurological conditions.
Two-year-old Carlos Baute unexpectedly started to shake and choke when he had a fever in January. Holding his tongue down with two fingers to keep him from swallowing it, his mother visited multiple underequipped hospitals before one finally treated him.
Baute's mother said she could not find medication and was worried that her son, an active boy who has recovered and likes to dash around the clinic where he is being treated, may yet suffer another fit.
Leftist President Nicolas Maduro blames the shortages on a right-wing plot to overthrow him, but in a recent speech, he said he had approved "major dollar investments" to boost drug availability, without providing details. Venezuela is set to open three medical labs with Palestine, he added last week.
Venezuela's Information and Health Ministries, as well as the Social Security Institute, which oversees some hospitals and drug distribution, did not respond to requests for comment.
Compounding medical issues, some families cannot even eat properly.
Leonardo Colmenares, a 6-year-old with epilepsy and a degenerative neurological disease, weighed 10 kg (22 pounds) in mid-2016 but has lost 2 kg in six months as his mother struggles with his recommended diet.
"I sell bracelets and watches, I buy bread and resell it, I dry hair, I do pedicures, I cook, I rent out the washing machine and I iron," said the single mother, who had to leave her job as a bank analyst to take care of Leonardo.
When Leonardo convulses, she must rush him to a hospital because she has run out of anti-convulsants.
"I can't just go to a park (with my son) because maybe I'll suddenly have to rush away," Torres said, fighting back tears. "I always have my heart in my mouth."
Follow Emirates 24|7 on Google News.