Vote count puts Modi on course for landslide in India's biggest state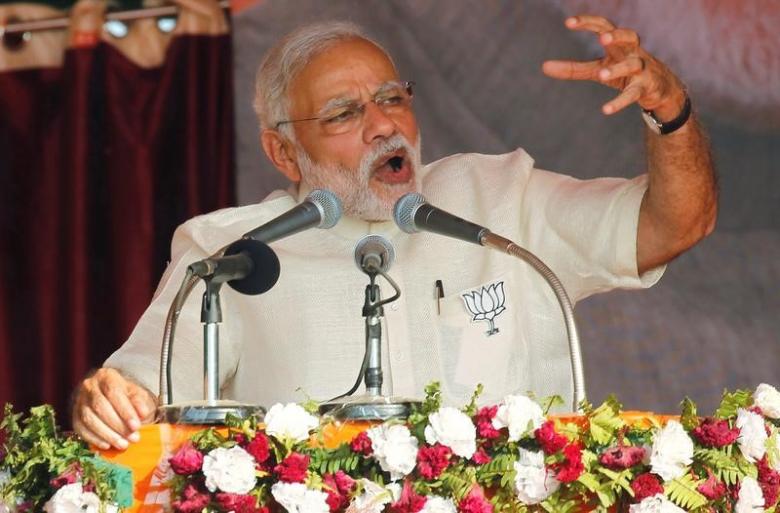 Prime Minister Narendra Modi's party is on course for a landslide victory in India's most important battleground state, early returns showed on Saturday, in a personal triumph that will strengthen his claim to a second term as national leader.
If the Bharatiya Janata Party does wrest control of Uttar Pradesh it would be a ringing endorsement of Modi's stewardship of Asia's third-largest economy after his high-risk decision last November to scrap high-value banknotes worth 86 percent of the cash in circulation.
Though premature to call the final outcome, the Election Commission of India said the BJP was leading in 284 of the 403 seats in the northern state, which if confirmed by results would give it the biggest majority scored by any party in the state since 1980.
The BJP's vote share based on early counting is more than 40 percent, the election commission said, close to the party's winning vote share in Uttar Pradesh in the 2014 national election when it won the biggest majority in three decades.
"This will be a phenomenal endorsement for Narendra Modi and will put him on track for winning the 2019 election," Prannoy Roy, editor of TV channel NDTV said.
Modi threw himself into the Uttar Pradesh campaign after his party got off to a slow start, delivering dozens of rallies and turning the contest into a test of his personal popularity and his radical move to abolish big banknotes to rein in corruption.
The prime minister, and his election strategist Amit Shah, can take credit if the BJP wins control of India's most populous state.
"The results will redefine the prime minister's political destiny and his future course of action," an aide to Modi in the capital, New Delhi, told Reuters.
Post-election surveys had suggested Modi's BJP had done enough to come first in Uttar Pradesh, home to one in six Indians, might fall short of a majority.
Results for four other state elections are also due on Saturday, and early counting put the BJP ahead in the Himalayan state of Uttarakhand and Manipur in the northeast, while marginally behind the opposition Congress party in the coastal state of Goa.
Congress is ahead in Punjab state, the trends show, offering at least some consolation after Rahul Gandhi, heir apparent to the party leadership, failed again to make an impact.
INVESTORS WATCHING
Voting in Uttar Pradesh, a state of 220 million people, was conducted in seven stages and ended on Thursday.
The BJP's opponents included an alliance between Congress and the ruling Samajwadi Party, and a third party popular among lower-caste Indians. None of these parties managed a vote share above 23 percent, partial official returns showed.
"The Samajwadi Party wholeheartedly accepts the verdict of the people of Uttar Pradesh," spokesman Ghanshyam Tiwari said, conceding defeat.
Investors counting on further economic reforms - including the launch of a national sales tax - will welcome a strong BJP win and see its consolidation of power as a boost for economic growth.
If the BJP wins a majority it can avoid the scramble to form a governing coalition in Uttar Pradesh. The election also decimates the field of credible opponents who could halt Modi's march to a second term at the 2019 general election.
Victory in Uttar Pradesh will also make it easier to overcome resistance to the BJP's legislative agenda in the upper house of parliament, where the ruling party is in the minority.
Follow Emirates 24|7 on Google News.