West edges closer to confrontation with Iran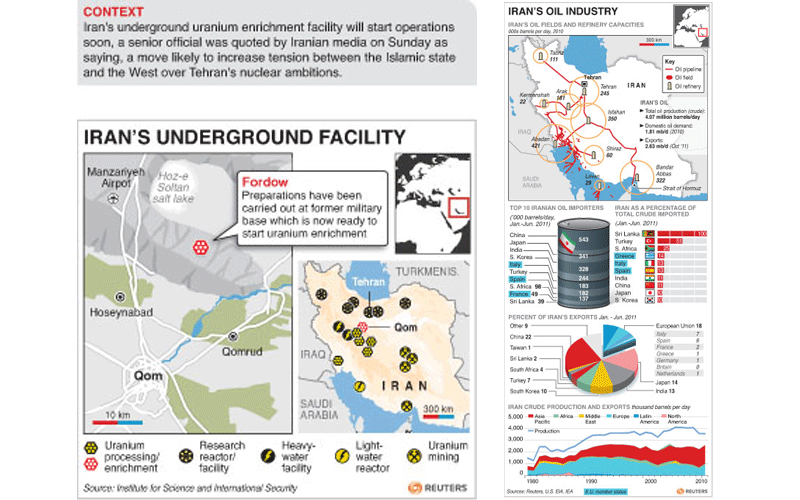 Iran's showdown with the West slid closer to dangerous confrontation on Tuesday as international alarm over a new uranium enrichment plant and Tehran's death sentence for a "CIA spy" raised the stakes.
Both sides were digging in deeper and brandishing military muscle, with Iran's defiance hardening and the United States and European Union actively taking steps to fracture the Iranian economy through further sanctions.
The IAEA's confirmation on Monday that Iran had begun enriching uranium in a new, underground bunker southwest of Tehran was seized upon by the United States, Britain, France and Germany as an unacceptable "violation" of UN Security Council resolutions.
But Iran's envoy to the International Atomic Energy Agency, Ali Asghar Soltanieh, on Tuesday shot back that the stance was "politically motivated".
The underground Fordo plant had been revealed two years ago and documented, he said. The 20-per cent enriched uranium it was to produce would be used for "peaceful and humanitarian" purposes, namely isotopes for cancer treatment, he said.
Both Solatanieh and the IAEA stressed that the UN nuclear watchdog had deployed 24-hour cameras there and inspectors to keep it under watch.
That seemed unlikely to reassure the United States, though, or its chief Middle East ally, Israel, analysts said.
"Israel, which has already warned Iran that it could take military action against installations, is very, very worried by this facility ... We are moving into dangerous territory," said Mark Hibbs of the Carnegie Endowment for International Peace.
But while Iran downplayed the significance of Fordo -- and affirmed it was ready to resume nuclear talks with world powers that collapsed a year ago -- it continues to send tough signals to its longtime foe, the United States.
On Monday, a Revolutionary Court in Tehran sentenced an American former Marine, Amir Mirzai Hekmati, to death after convicting him of being a CIA spy.
The United States has called for the release of Hekmati, 28, who also holds Iranian nationality through his Iranian family who settled in the United States before his birth.
US officials said the allegation he was sent by the CIA to infiltrate the Iranian intelligence ministry was false, though State Department spokeswoman Victoria Nuland would not reply to a question about whether Hekmati had links to any US intelligence service.
"I don't think we need to go any further than what we've been saying, which is we consider these charges a complete fabrication," Nuland said.
Iran, which last month put on display what it said was a CIA reconnaissance drone it claimed to have captured through cyberwarfare, has also been stepping up military exercises in a show of strength.
Its elite Revolutionary Guards have said they are about to launch new navy manoeuvres in the Strait of Hormuz, at the entrance of the Gulf.
The navy drills are aimed at showing Iran can close the Strait of Hormuz, as political and military officials have warned, if the Islamic republic's oil exports are blocked or severely curtailed.
US President Barack Obama signed into law on New Year's Eve sanctions against Iran's central bank due to come into effect within months.
Under their terms, foreign countries and companies will have to choose between doing business with Iran or the United States, unless Obama grants exemptions.
US Treasury Secretary Timothy Geithner was in Beijing on Tuesday in an effort to get China to drop its steadfast opposition to new sanctions on Iran and to come on board, at least to some extent.
The European Union, meanwhile, is poised to declare a ban on Iranian oil imports.
A foreign ministers' meeting on the issue scheduled for the end of this month could be brought forward a week, to January 23, an EU official in Brussels told AFP.
Iran depends on oil sales for 60 percent of its government revenues.
Last year, it earned around ê100 billion from petroleum exports. But existing financial sanctions have made it difficult to bring all the hard currency from the sales back to Iran.
Signs of strains on Iran's economy could be seen in the value of its currency, the rial, which has plummeted around a third in the past three months.
On Tuesday, mobile phone text messages containing the word "dollar" -- in either Farsi or English -- were being blocked in Iran. The block added to the inaccessability over the past week of mesghal.ir, a website that shows the rial's value against world currencies.
Follow Emirates 24|7 on Google News.