White House threatens Pakistan envoy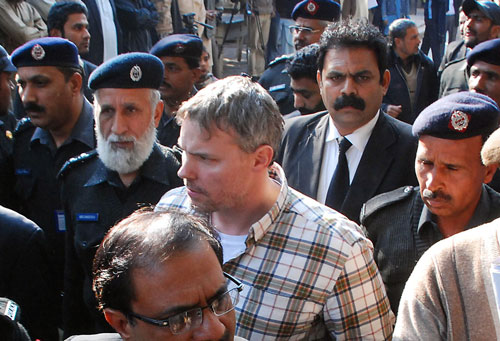 President Barack Obama's national security advisor has threatened to boot Pakistan's ambassador Husain Haqqani from the country if a US official arrested in Lahore was not released by Friday, ABC News said.
Citing two Pakistani officials, ABC News said late Thursday that National Security Advisor Tom Donilon made the threat after summoning Haqqani to the White House on Monday.
He also warned US consulates in Pakistan may be closed and an upcoming visit to Washington by Pakistan President Asif Ali Zardari could be cancelled if US official Raymond Davis was not freed.
While the White House has declined to comment, a senior US official confirmed the details of the report to ABC News.
Davis was arrested on January 27 after allegedly shooting two men in broad daylight in a busy street -- an incident that has sparked angry protests in Pakistan.
Meanwhile Pakistan on Friday sent the US official to jail on judicial remand, pending further murder investigations and a legal tussle over diplomatic immunity in a case that has inflamed ties with Washington.
Raymond Davis appeared in a Lahore court accompanied by heavy police security, 15 days after he was arrested for shooting dead two men on motorbikes. He has maintained he acted in self-defence.
The US government says Pakistan is holding him unlawfully and demands his immediate release, saying that Davis is a "diplomat assigned to the US embassy in Islamabad" and has diplomatic immunity.
US lawmakers have threatened to cut payments to Pakistan, the beneficiary of ê7.5 billion dollars of aid and ê2 billion in military aid, and Washington has warned that high-level dialogue is at risk unless Davis is freed.
"He has been remanded in judicial custody for 14 days. The next hearing will be on February 25," Punjab government prosecutor Abdul Samad told reporters.
A full report was not presented in court on Friday as "investigations were not completed," Samad said.
"Most of the time was taken up by the defence lawyer on the issue of immunity. The judge said that the issue of immunity had been taken up by a higher court, so it was not in his purview," Samad said.
On February 1, the Lahore high court blocked any move to free Davis and gave the foreign ministry 15 days to answer on whether he has diplomatic immunity.
Nauman Atique, lawyer for the Pakistanis shot dead by Raymond, said Judge Aniq Anwar said the question of immunity was pending before the high court.
The US embassy was not immediately available for comment.
Police official Suhail Sukhera told reporters that Davis was now being sent to the high-security Kot Lakhpat jail in the eastern city.
On January 27, Davis shot dead two Pakistani men who he said were trying to rob him in broad daylight on the streets of the city.
A third Pakistani was run over and killed by a US consular vehicle coming to aid Davis, who was instead taken into Pakistani police custody.
Samad told reporters that Davis' lawyers had submitted two applications: one demanding immunity on his behalf and saying he cannot be put on trial, and the second asking for court proceedings to be held in camera.
In what has become a political time-bomb, the government in Islamabad is under enormous domestic pressure to see Davis go on trial, with local lawyers arguing that diplomatic immunity can be waived for grave crimes.
The deaths sparked protests in Pakistan, where the alliance with Washington is hugely unpopular and anti-American sentiment runs high, fuelled by US missile attacks on Islamists in the northwest and the war in Afghanistan.
The wife of Mohammed Faheem, one of the two men shot by Davis, committed suicide on Sunday by taking poison.
Davis -- whose name and precise job have not been officially confirmed by the US government -- had previously been held on police remand.
Rana Sanaullah, Punjab's law minister, told AFP on Thursday that the prosecution would seek his trial for homicide.
"We will prepare murder charges against him," Sanaullah said. "Another case of carrying unlicensed weapons will also be taken up against him."
In Pakistan, few are convinced that Davis was a normal diplomat. Police told AFP they recovered a Glock pistol, four loaded magazines, a GPS navigation system and a small telescope from his car.
Follow Emirates 24|7 on Google News.