Wikipedia, Google lobby against anti-piracy law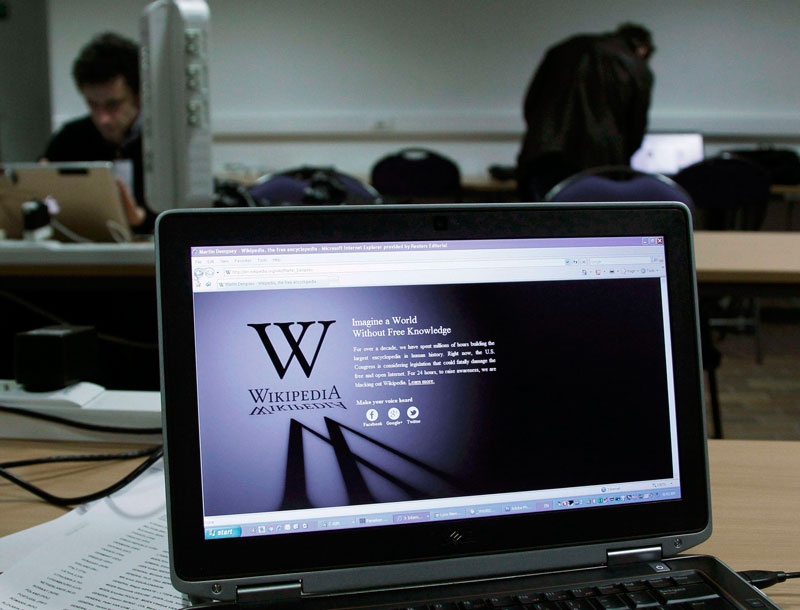 The English page of Wikipedia, the world's free online encyclopedia, was dark on Wednesday except for a paragraph urging users to protest legislation designed to stop copyright piracy, but that Wikipedia says "could fatally damage the free and open Internet."
Google's home search page has the logo: "Tell Congress: Please don't censor the web!"
Smaller sites, such as Reddit.com and BoingBoing.net, were also dark, with BoingBoing noting that the proposed anti-piracy bills "would put us in legal jeopardy if we linked to a site anywhere online that had links to copyright infringement."
The companies oppose bills designed to curb access and payments to overseas websites that traffic in stolen content or counterfeit goods on the grounds that it could put them in legal peril.
The legislation has been a major priority for entertainment companies, publishers, pharmaceutical companies and many industry groups. They maintain the proposed law is critical to curbing online piracy they say costs them billions of dollars annually.
Internet companies have furiously opposed the legislation and have stepped up lobbying efforts in recent months, arguing it would undermine innovation and free speech rights, compromise the functioning of the Internet, and would be ineffective in stopping piracy.
The bills were seemingly on the fast track for approval by Congress until the White House criticized aspects of it over the weekend.
Big tech names including Facebook and Twitter declined to participate despite their opposition to the House of Representatives' Stop Online Piracy Act (SOPA) and the Senate's PROTECT Intellectual Property Act (PIPA). The companies were not prepared to sacrifice a day's worth of revenue and risk the ire of users for a protest whose impact on lawmakers would be hard to gauge.
Google's solution allows the search engine giant to keep revenue attached to its searches, while still highlighting the issue.
"This publicity stunt does a disservice to its users by promoting fear instead of facts," said Lamar Smith, chairman of the House Judiciary Committee and a sponsor of SOPA. "Perhaps during the blackout, Internet users can look elsewhere for an accurate definition of online piracy."
Former Senator Chris Dodd, who now chairs the Motion Picture Association of America, labelled the blackout a "gimmick" and called for its supporters to "stop the hyperbole and PR stunts and engage in meaningful efforts to combat piracy."
Bill Allison, editorial director of the Sunlight Foundation, which aims to create a transparent government, said the in-your-face public lobbying effort was "very effective."
"It's a way of engaging the public in something that had been a very much behind closed doors kind of business as usual in Washington thing," he said. "Obviously lobbying and campaign contributions are important, but members of Congress still need to get 50 percent of the vote. If a significant portion of their constituents are affected by something ... and go to the other side, you can lose your seat. That's what makes this such an interesting confrontation right now."

Follow Emirates 24|7 on Google News.