William, Kate head east in Canada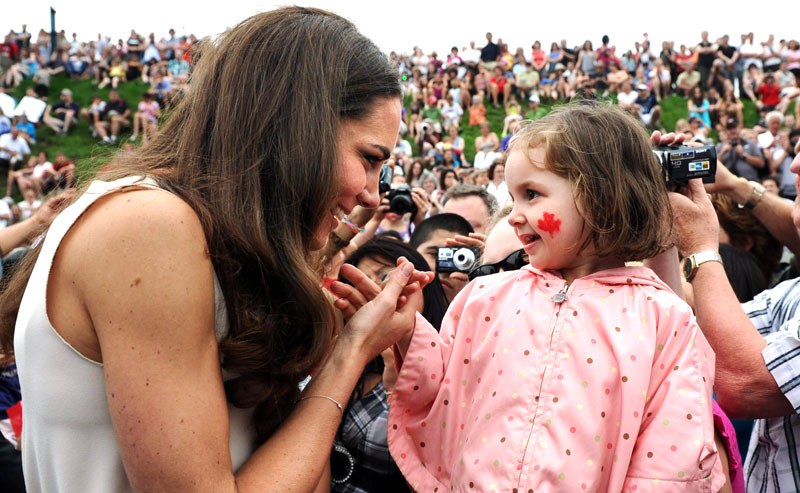 Prince William and wife Catherine were set for a day of dragon boat races and search and rescue drills in eastern Canada Monday after two protest-filled days in French-speaking Quebec.
The British royal couple arrived for a private reception in Charlottetown, capital of Prince Edward Island, on Sunday evening, from Quebec as part of their nine-day tour of Canada.
The couple had charmed a crush of well-wishers in Quebec City earlier in the day as police lines kept republican protests far from their first official foreign trip as newlyweds.
The duchess of Cambridge, sporting a blue lace Jacquenta dress by Canadian designer Erdem, accepted flowers from wide-eyed young girls as her husband the duke exchanged polite banter and shook hands with fans outside city hall.
William, who spoke in French and apologized for his awkward accent, thanked supporters for their warm welcome in the Quebec provincial capital, coming one day after anti-monarchist protests in Montreal marred their tour of Canada.
"I hope that we will have the chance to get to know each other over the years to come," he said, pledging to return to the city, once the cradle of French civilization in North America that spanned from Acadia in easternmost Canada to Louisiana in the southern United States.
As the prince spoke, a small plane passed overhead dragging a banner across the sky touting a controversial phrase delivered by French president Charles de Gaulle in Montreal in 1967, "Long live a free Quebec."
But it was as close to disrupting the royal visit as protesters would get in Quebec City.
A few blocks away, some 200 republican demonstrators with placards that read "end to the monarchy" and "William go home" jeered and chanted for an independent Quebec but were drowned out by well-wishers' cheers.
Organizers of the demonstration had promised to top angry protests in Montreal on Saturday.
Riot police had been called to keep the peace outside a Montreal children's hospital the royal couple visited and at the Quebec tourism and hotel business institute where they took a cooking class.
In Quebec City, barricades kept protesters away from the royal tour.
While out of earshot of the prince and princess, Patrick Bourgeois of the Quebec Resistance Network, said that "one cannot pardon the crimes of the British empire in India, Australia and Quebec."
Britain conquered the former French colony of Quebec in 1763, but its culture and language survived, and today it is a bastion of French culture in North America.
British rule, however, still evokes resentment in some quarters of the Canadian province.
As a member of the Commonwealth, Canada's official head of state is the British monarch, Queen Elizabeth II, who is represented by a governor general.
On Sunday, William, second in line for the British throne, pored over a copy of the first treaty between the British and aboriginals in Canada, signed in 1760, presented to him by a Huron chief in a headdress made of wild turkey feathers.
William and Kate also toured the Quebec City's old quarter, perched atop a cliff that overlooks the point where the Saint Lawrence River widens on its way to the open sea. It remains the only fortified American city north of Mexico and a UNESCO world heritage site.
They visited the ceremonial home of the Royal 22e Regiment, also known as the Van Doos -- a corruption of vingt-deux (French for 22) -- the best known francophone and largest regiment in Her Majesty's Canadian Forces.
And they inspected children dressed as colonial British soldiers at Fort Levis, Quebec.
Monday evening William and the former Kate Middleton will move on to Yellowknife in Canada's Northwest Territories for aboriginal sports and then Calgary for a rodeo before leaving Canada and heading for Los Angeles on July 9.
Follow Emirates 24|7 on Google News.