World's first $1 billion yacht in the making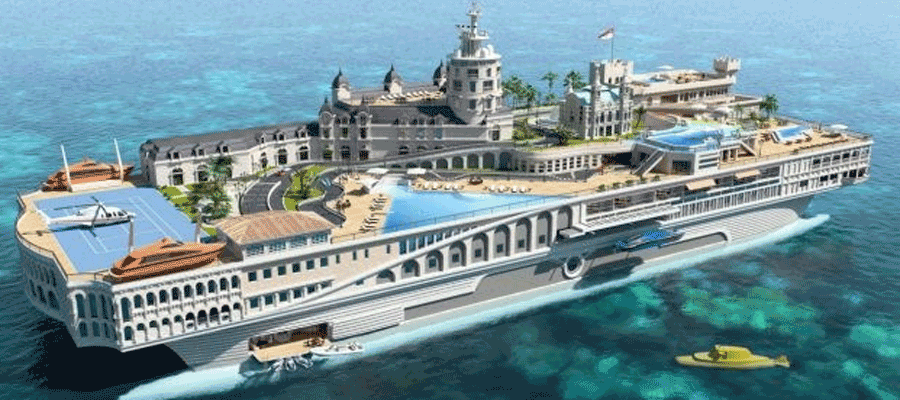 The yacht, named the Streets of Monaco, features replicas of famous Monaco landmarks such as the Monte Carlo Casino, Hotel de Paris, Cafe de Paris, La Rascasse and Loews Hotel, as well as a fully functional go-kart circuit based on the Monaco Grand Prix Circuit, reports 'Overseas Property Mall'.
In some ways it is more like a mini-cruise liner than a super-yacht with its multiple swimming pools and tennis courts. However, it would need a commission in order to finalise design requirements of the client and to commence construction.

Scott Poxon, director of Derby-based ship designers Yacht Island Design said that while many newspapers have estimated the cost of the yacht to be $700 million, this may not be anywhere near accurate. "We have not ever quoted any price as this would be agreed between the client and the selected ship yard and would vary significantly depending on specifications," he said.
As for the Streets of Monaco's chances of sailing the seven seas Andrew Johansson of SuperyachtDesign magazine said: "We do see a lot of concepts for super-yachts being floated, but not all of them get built. This borders on the extreme, although we did see a design for a flying super-yacht last year, which surely will never get built. Streets of Monaco is a cool idea, though. The designers have done their homework."
Also see:
Best of Web: Why today is the happiest day of the year
WikiLeaks founder warns of huge leak as last resort
Love triangle Brit out on bail shares her secrets
Highest restaurant opens at Dubai's Burj Khalifa
The world's first $1billion-yacht is in the making. A UK yacht design company has designed a yacht which adorns a scale model of the streets of Monaco on its upper deck.
Follow Emirates 24|7 on Google News.