Yemeni opposition to keep up boycott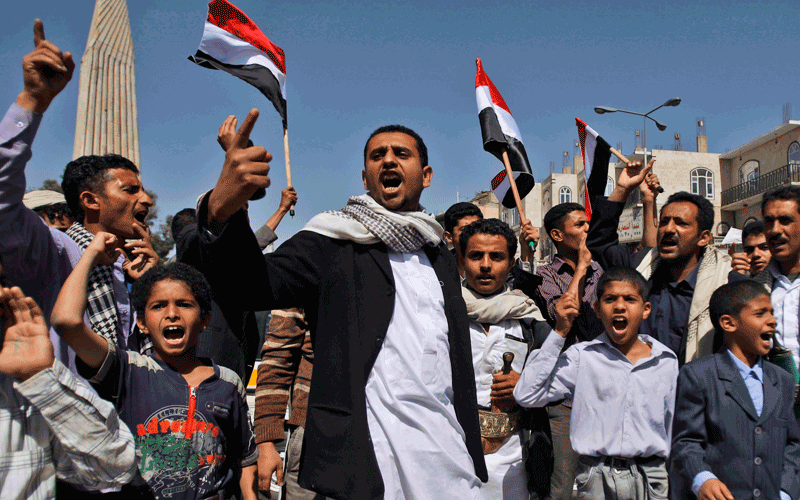 Yemen's opposition has announced it will keep boycotting parliament until President Ali Abdullah Saleh delivers on promised reforms, but it refrained from calling more protests.
In a joint statement late Saturday, parliamentary opposition groups said they would "continue to boycott sessions of parliament until the abrogation of unilateral measures".
That was a reference to constitutional amendments that would have allowed Saleh to stay in office for life, as well as a new election law that has been rejected by the opposition.
The statement made no mention of Saleh's departure from office -- the core message of anti-government protests that erupted mid-January. Nor did it call for new demonstrations.
In power since 1978, Saleh tried to meet some of the opposition's demands on Wednesday when he said he would not tweak the constitution to seek re-election in 2013 once his current term is over.
The boycott began in mid December after Saleh' parliamentary allies rammed through an electoral law amendment stipulating judges rather than party delegates oversee the high electoral commission in elections scheduled for April 2011 but now postponed by Saleh.
The amendment brought negotiations on broad political reforms -- including a shift from a presidential regime to a proportional representation parliamentary system -- to a halt.
The parliamentary opposition's statement called on Saleh's General People's Congress party "to take concrete steps to implement the accords passed" on national dialogue.
It also "praised the Yemeni people for expressing their legitimate demands for reform and change in a civilised manner" during opposition-led protests this past week.
Tens of thousands of opposition supporters rallied behind the call for regime change in Sanaa on Thursday, while an equal number of demonstrators loyal to the government turned out to support Saleh.
Supporters of the president on Saturday announced the cancellation of weekend protests in various Yemeni cities, and on Sunday they could be seen dismantling tents they had set up in Al-Tahrir Square in Sanaa on Wednesday.
US President Barack Obama on Thursday welcomed Saleh's promised reforms, while calling on his regime to exercise restraint.
Follow Emirates 24|7 on Google News.