Young brother and sister killed in Thai bomb blast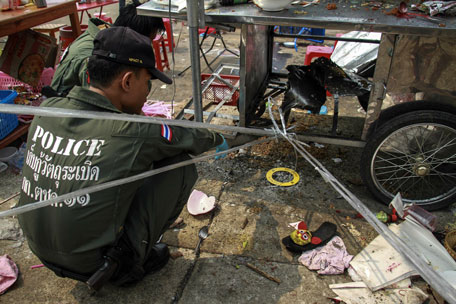 The six-year-old sister of a boy killed in a bomb blast in the Thai capital died on Monday, doctors said, taking the death toll to three from the latest incident in a conflict that has burst into episodic violence and shows no sign of ending.

The bomb exploded in a busy shopping district on Sunday, wounding at least 22 people near an anti-government protest site. Supporters of Thai Prime Minister Yingluck Shinawatra earlier promised to get tough with the protesters who took to the streets last November in their bid to oust her.

The young girl's four-year-old brother and a 59-year-old woman were also killed in the blast. Medical sources had earlier put the age of the boy at 12 and the woman at 40.

A nine-year-old boy was in intensive care in hospital with severe head injuries.

It was not immediately clear who was responsible for the attack but the polarisation of Thai society raises the possibility of wider civil strife.

The protests pit the mainly middle-class anti-government demonstrators from Bangkok and the south against supporters of Yingluck from the populous rural north and northeast.

Both sides have blamed the other for instigating violence, while armed provocateurs have a history of trying to stir tension. Protesters and the police have also blamed violence on shadowy third parties.

Yingluck said Sunday's attack, and one on Saturday in the eastern province of Trat in which a five-year-old girl was killed, were terrorism.

"I strongly condemn the use of violence in recent days ... since the lives of children were lost," she said on Facebook.

"The violent incidents are terrorist acts for political gains without regard for human life."

Leaders of the pro-government United Front for Democracy against Dictatorship (UDD) vowed on Sunday to "deal with" anti-government leader Suthep Thaugsuban, setting the scene for possible confrontation.

"This fight will be harder than any other ... You must think how we can deal with Suthep and those supporting him," Jatuporn Prompan, a UDD leader and senior member of the ruling Puea Thai Party, told thousands of cheering supporters in Nakhon Ratchasima, northeast of the capital.

Anti-government protesters have blocked main Bangkok intersections for weeks with tents, tyres and sandbags, seeking to unseat Yingluck and halt the influence of her billionaire brother, Thaksin Shinawatra, an ousted former premier regarded by many as the real power behind the government.

Four protesters and a police officer were killed on Tuesday when police tried to reclaim protest sites near government buildings.

The protests are the biggest since deadly political unrest in 2010, when Thaksin's "red shirt" UDD supporters paralysed Bangkok in an attempt to remove a government led by the Democrat Party, now the main opposition party.

Suthep, at the time a deputy prime minister, sent in troops to end that protest. More than 90 people were killed and 2,000 wounded during those clashes.
Follow Emirates 24|7 on Google News.