Young pioneers push envelope on freestyle indoor skydiving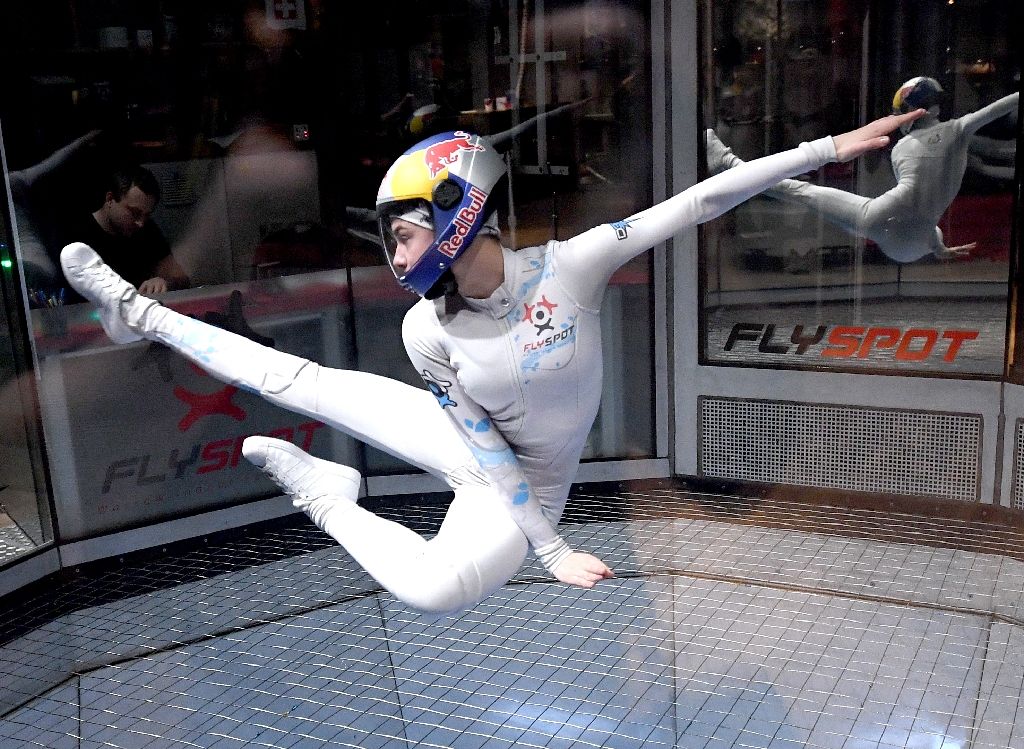 Dressed in a white skintight full body suit and helmet, Maja Kuczynska spins furiously before diving into a fast-moving sequence of airborne gymnastic moves with the elegance of a ballet dancer.
Soaring into yet another spin, she then floats, twists and backflips in choreographed maneuvers akin to acrobatics or ice-skating suspended in midair. Her expressive and dizzying two-minute display is enthusiastically applauded by the crowd seated around the outside of the wind tunnel.
At the age of 17, the Polish high school student is one of about 20 top indoor skydiving competitors worldwide, who are pioneering the solo freestyle version of a sport they call "flying".
"It's more of an artistic approach to the subject," the slender and sleepy teen told AFP, at 3:00 am on a Sunday as she waited to practise at the busy vertical wind tunnel in the Polish capital, Warsaw.
"It's such a fast-paced discipline, right now there's no one to teach me," she adds.
Vertical wind tunnels, where air moves up a column that stands up to 20 metres (66 feet) high, were first developed for aerodynamic tests. Their recreational use has gained in popularity over the last decade among skydivers seeking a safer alternative to jumping out of a plane.
Wind speeds in the tunnel can reach up to 300 kilometres per hour (186 miles per hour) and, while the moves look effortless, staying in control requires enormous strength, flexibility and precision.
But there are no limits on creative freedom.
"It's really different from, let's say, ice-skating, because it's been around for such a long time that now it's really hard to create new moves, while in the tunnel I can go in and play and create something nobody has ever seen before.
"A couple of different people and I are creating this discipline," Maja adds.
Olympic dreams
She won the bronze medal in solo freestyle at a major international indoor skydiving competition, the Wind Games 2017, last month in Empuriabrava, northeastern Spain.
Competitions have rounds involving compulsory moves and others where anything goes.
A video posted on Facebook of Maja's performance, choreographed to Major Lazer's hit song "Powerful", has gone viral, gathering 30.5 million views in just over a month.
She was only outdone by Singapore's 14-year-old indoor skydiving sensation Kyra Poh, who won gold in the freestyle category, and Czech competitor Jakub Harrer, who took silver, according to the Wind Games 2017 official website.
Although there are still just a handful of people worldwide competing at the top level in the solo freestyle category, there is already talk of the sport making it to the Olympics.
"Indoor skydiving is the only aerobatic sports discipline that meets the criteria for being an Olympic discipline," claims Bartosz Wiecek, manager of the Fly Spot vertical wind tunnel in Warsaw.
"It's following the same path as snowboarding, which at one time was very 'underground' and very independent.
"In the end, an agreement was reached and it became an Olympic sport because it gained popularity," he said.
Kids too
Several vertical wind tunnels have popped up in Poland. They can operate around the clock and are much cheaper and safer than skydiving out of a plane.
There is also no age limit.
Maja says that when she started six years ago, she was among a handful of indoor skydiving children around the globe including two girls in Singapore and "a couple of siblings in Dubai".
"But now, half of the flyers at least, at competitions for freestyle, are kids!" she said.
At just nine years old, Polish "flying" competitor Olga Lubak will head to Montreal in Canada, along with Maja, in October for the World Indoor Skydiving Championships.
For now, Olga is spending hours in the wind tunnel to perfect her routine.
"I'm really stressed out because I'm afraid of being last but I don't think that will happen," she told AFP, before being swept up in the wind tunnel in another series of "flying" twists, turns and spins.
Follow Emirates 24|7 on Google News.