'Your child in gold': Dubai's new weight loss campaign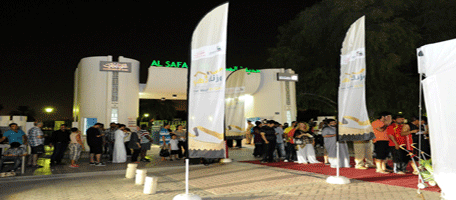 If last year a loss of weight could earn you gold, this year your child's loss of weight will earn you double the weight of gold, if you are losing some of the extra pounds as well, of course.
Dubai Municipality has launched the 'Your Child in Gold' campaign, after last year's Ramadan campaign 'You Weight in Gold' became a great hit with over 10,000 participants and media attention from all over the world.
Announcing the initiative, Hussain Nasser Lootah, Director General of Dubai Municipality, explained that the focus of this year's campaign is on the family, urging individuals to look after their own weight as well as their children's weight.
As such, any person participating in the contest with one or more of his children will receive twice the reward for each kilogram of weight loss for each family member, he explained.
Here is how it works; people can sign up as an individual or as a family. The weight of each participating member will be measured at the beginning of the competition, and again 1.5 months later.
Individuals will be rewarded 1 gram of gold for each kg reduced, while individuals participating as a family will be rewarded 2 grams of gold for each kg reduced for each family member, provided that each participant has at least lost 2kg.
A first prize will be given to the individual who lost most weight within 45 days.
"Obesity of children is a big dilemma faced by many countries especially in the Middle Eastern and European nations due to the addiction of the new generation to electronic devices. We need to protect our growing generation from the negative effects of technology by encouraging them to have a healthy life style and by educating the parents about their role in upbringing a healthy generation," stressed Lootah.
Ahmed bin Sulayem, Executive Chairman of Dubai Multi Commodities Center (DMCC), one of the sponsors of the campaign, said to feel strongly about the initiative and about healthy living in general.
"Recently I read the news about two of the biggest babies ever born in Colombia. I wondered what they could possibly have been eating to reach that weight at such an age," he uttered with disbelief.
"This programme is not just about winning gold for a short-term commitment to exercise, it aims to encourage society to permanently adopt a healthier lifestyle. That is one of many reasons why DMCC is increasing its contribution to the campaign this year by providing Dh 150,000 worth of gold with the ultimate goal of raising awareness of the benefits of exercise combined with a healthy diet," he added.
After participants have registered, children will be subjected to a mandatory consultation session. There would be a special corner for children in all registration sites where children will get basic medical checkups such as pressure, sugar, height, weight and body mass index along with consultation from nutritionists and instructions to be followed.
Throughout the competition period there will be a hotline made to answer the queries of contestants and provide them with nutritional advice in addition to a specific website for the initiative which includes pieces of advice on ideal weight, contact numbers of nutritionists for follow-up, time table of sports and associated activities and information about group walking organized in different locations.
During last year's competition, 2,648 participants were rewarded a total of 16.823kg of gold. The majority of the participants had lost between 2-5 kg. However, 7 participants had lost more than 20kg, and the winner of the competition lost 26 kg.
The registration of this year's competition will start on July 15, 2014 and will continue till July 24, 2014 from 9 pm to 12 am on a daily basis in five sites, namely Al Mamzar jogging track, Al Khawaneej jogging track Gate No.3 , Safa Park Gate No.2, Zabeel Park Gate No.3 and Al Barsha Park main entrance.
Firstly, all required information should be furnished through the website: www.thedmgold.com. Upon the completion of online registration the participant will be provided with a registration number. (S)he will then have to come to the registration site with the online registration details.
During site registration, participants have to bring their national ID card and avoid carrying and any heavy items. After the weight measurement, they should ensure that their accurate weight is written on the paper of registration which they brought with them along with seal and signature of the concerned official. The registration data sheet will be deposited in the box provided in the registration sites and the measurement details will be updated online.
There are certain terms and conditions for children's participations. The registration of children should be in the presence of parents or one of them. Parents have to pledge to comply with terms and conditions and true measurements to help the child get ideal weight during the specific period. The child has to participate in the nutrition and sports programmes arranged for them during the follow-up period.
The final measurement stage will be September 10-15, 2014 where the participants will get an SMS on which date and where they have to come to take final measurement.
Follow Emirates 24|7 on Google News.