Zoo rescues animals, cages visitors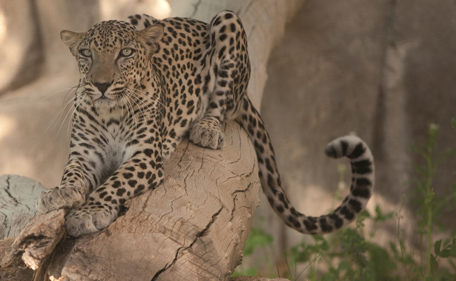 As the enormous lion prowls atop the roof of the safari vehicle, his pale pink tongue licking out from his massive jaws, delighted passengers snap pictures and reach out to touch him.

This apparent violation of the number-one rule at most zoos - don't pet the animals - is encouraged at Parque Safari in Chile, a sanctuary for mistreated circus animals that turns the traditional zoo-going experience on its head.

The zoo puts visitors in caged vehicles and drives them around the two-hectare (five-acre) park where the lions roam free, as the hulking carnivores get to look at the humans from up close.

"It's so scary. It's a very strange feeling, to be so close to them, only a few centimeters away," said visitor Carolina Gonzales Baeza.

"I think it makes you understand what it's like to be caged for animals, they must feel like us, frightened to be locked in without being able to get out."

The director of Parque Safari, Ivan Sanchez Lobos, said that is exactly the experience he wanted to create.

"I went to other parks, in the US, in Mexico, some in South America and I saw that the lions were kept away by electric fences. I didn't want that, I wanted for the lion to be active and for the humans to feel what it's like to be in a cage," he said.

At Parque Safari, which opened nine years ago outside the central city of Rancagua, most of the animals are all too familiar with life in a cage.

The zoo takes in lions, bears, monkeys and elephants from circuses where they have been abused and works to rehabilitate them.

"The Chilean authorities have rescued these animals and we have brought them here because they can't be freed, they have lost the ability to hunt and survive," Sanchez told AFP.

Other rescued animals are too fragile to roam free and are kept in cages, but in far better conditions than they previously knew.

In one cage, a lion named King has been nursed back to health after having a paw amputated. He was seized from his former owners after they removed his claws in unsanitary conditions and the paw became badly infected.

In another cage, two female bears sway from side to side as they walk, a movement they developed in the circus that used to place them atop a hot metal sheet, burning their paws and making them "dance."

Feed the giraffe

Six of the park's 10 lions have been rehabilitated and roam freely about a massive enclosure dotted with lush vegetation and small lakes where they go to cool off.

From time to time a caged safari vehicle drives by with meat on the roof. The lions climb atop it to snack and look at the curious humans inside.

The safari drives are the main attraction at the zoo, which gets more than 1,000 visitors a day.

Nearby, visitors can take a small train through fields roamed by herbivorous animals, including sheep, horses, llamas and zebras.

The star of the show is a giraffe that likes to stop by and greet the visitors, bending down to accept the tasty green leaves they hold out to her.

The zoo plans to take in white and Bengal tigers in the near future to help them reproduce and to open another safari drive with tigers.
Follow Emirates 24|7 on Google News.