36-year-old 'virgin' who fathered 14 kids...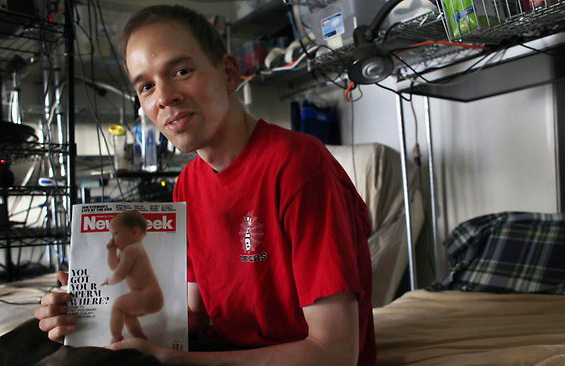 Californian Trent Arsenault made big news last month when the US Food and Drug Administration (FDA) issued him a cease-and-desist order, warning him against providing his sperm to childless couples for free through his site TrentDonor.org.

According to the San Francisco Chronicle, the FDA told him to "stop giving away his sperm — or face a $100,000 fine or up to a year in prison — on the grounds that he's ignoring federal regulations that require blood tests every time a person donates any kind of body tissue or fluid."

Now, the 36-year-old self-proclaimed 'donor sexual' has made headlines again – this time for claiming that he is still a virgin despite his impressive success at reproducing.

"I coined this term 'donor sexual' and I'll explain it means 100 per cent of my sexual energy is for producing sperm for childless couples to have babies," Arsenault said. "So I don't have other activity outside of that."

"So you do not have sex?" Anderson Cooper, an American journalist and TV personality asked him on a show that Arsenault appeared.

"I will probably be the 40-year-old virgin," Arsenault explained. "Except I'll have 15 plus kids."

Until the case is settled, he's permitted to continue giving away his sperm. While he prepares to fight a legal battle with the FDA, Arsenault is continuing to donate his sperm.

Apparently, the latest media blitzkrieg has generated global interest in his donations. But he told the SF Weekly that he's turning down requests from Japan, Malaysia and France and only offering his seed to people who live in the California Bay Area.
Follow Emirates 24|7 on Google News.