Adult colouring craze: Crayon makers seeing green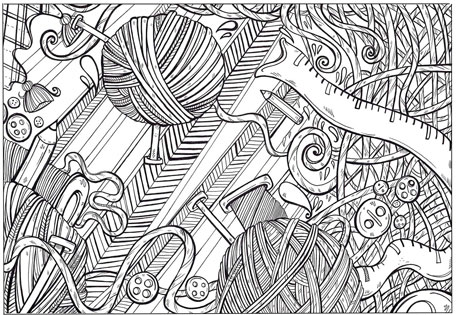 Colouring books for grown-ups may be the new lifestyle craze, promising ways to combat stress, unleash our creative spirit and generally take time out from our increasingly tech-frazzled, gadget-obsessed lives.
But for the makers of crayons and colour pencils, the trend also poses a fundamental strategic question: is the current boom in demand just a passing fad or is it a new sustainable trend?
"I dream about crayons at night," says Andreas Martin, who manages a factory of the manufacturer Staedtler in Nuremberg, southern Germany.
Staedtler is a small family-run firm employing a workforce of around 2,000 and has seen demand for some of its coloured pencils explode, more or less overnight.
"These are models we've been making for years and demand always chugged along unspectacularly," Martin said.
"But then all of a sudden, we weren't able to manufacture enough. It's incredible."
Just behind him, a machine spits out yellow ink pens at a rate of around 6,000 per hour. Another next to it is currently programmed to produce orange ones.
On the next floor down, finished crayons in a kaleidoscope of different colours are packed into boxes of 20 or 36 for shipping to the United States, Britain or South Korea.
Those are the countries at the centre of the current adult colouring craze, said Staedtler chief, Axel Marx.
In the USA, nine colouring books are currently among the top 20 best-selling products on Amazon.
A slice of cake
Gradually "we're seeing a similar development in European countries, too," said Horst Brinkmann, head of marketing and sales at rival Stabilo Schwan, which makes fluorescent marker pens and coloured pencils as well.
All the players in the sector are keen to get a slice of the cake. Stabilo has launched a set of crayons and book with spring motifs. Swiss upmarket maker Caran d'Ache has published its own colouring book of Alpine scenes.
Without revealing any figures, Brinkmann said Stabilo's sales of crayons had risen by more than 10 per cent while the colouring craze enabled Staedtler to lift its sales by 14 per cent last year to €322 million ($350m).
"That's remarkable, in this age of digitalisation," said Marx.
But the hype also constitutes something of a headache for factory chief Martin.
"No-one knows how long it will last," he admits.
"We need to strike a balance", so as to know much to sensibly invest to be able to ride the wave, while still keeping in mind that the trend could vanish as quickly as it started.
"At the moment, we're making use of adjustable working hours," adding shifts, say, at night or on Saturday mornings. In addition to the 350 regular employees, the factory had taken on around 30 temporary workers.
But ultimately, the decision is whether to invest the €300,000 needed for a new machine.
Fundamental trend?
Staedtler is ready to stump up the cash, with the hope that "if the market falls again, we can use the machines for different types of products," Martin said.
But rival makers are betting on the durability of the new trend.
At Caran d'Ache, "we have invested in production equipment and extended working hours," said president Carole Hubscher.
The company sets great store by being a "Swiss Made" brand and "there is no question of relocating to boost production," she said.
Hubscher is convinced that writing and drawing "won't disappear."
And "our growth targets are not solely built on trends," she argued.
Stabilo's Brinkmann insisted that adult colouring "is part of a fundamental and universal trend towards slowing down."
Nevertheless, "it's important to continue to innovate in this area" to maintain market momentum, he said, pointing to the new "fashion within a fashion" of "Zentangling" or drawing images using structured patterns.
Staedtler chief Marx is more fatalistic, saying that a trend such as colouring is not predictable.
"But we're keeping our fingers crossed that it'll continue," he said.
Follow Emirates 24|7 on Google News.