Air Canada embroiled in monkey business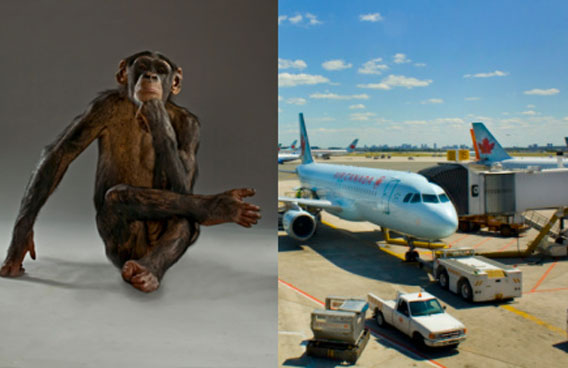 A UK-based animal advocacy group is taking Air Canada to task for allegedly shipping lab monkeys in the cargo holds of planes.
Sarah Kite, a spokesman for BUAV - an advocacy group campaigning to end animal experiments - said Sunday that a whistle-blower at Pearson International Airport complained the airline flew 48 monkeys from China to Toronto over the weekend.
"We're calling on Air Canada to stop shipping monkeys," Kite said. "It's a very cruel industry and Air Canada is playing a very key role."
Kite alleged the monkeys travelled as cargo from the Chinese capital of Beijing to Toronto on Saturday and were kept in crates for 15 hours after their arrival before being flown to Montreal.
Kite said the monkeys are believed to be headed to a research laboratory in Laval, Que.
Air Canada spokesman John Reber said the airline will not comment on the nature of its cargo shipments.
Many airlines, such as British Airways, United Airlines and Qantas Airways, have stopped shipping monkeys, said Kite.
She sent a letter on behalf of BUAV to Air Canada CEO Calin Rovinescu requesting that the airline follow suit.
Follow Emirates 24|7 on Google News.