Airport bans 3-inch toy rifle from flight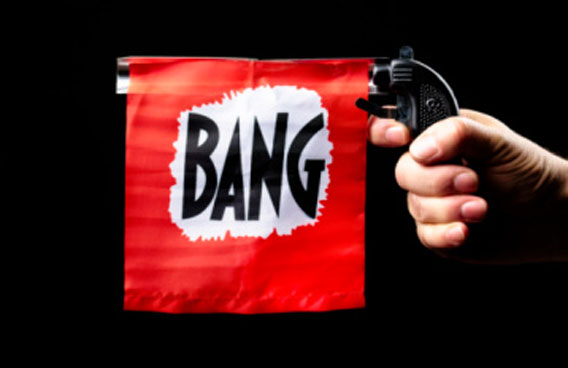 Airport security personnel in London are getting flak for refusing to allow a "firearm" onto a plane.
The catch, is that the firearm was a 3-inch SA80 rifle held by a 9-inch tall replica of a British soldier.
The toy triggered an alarm when it went through a scanner at Gatwick Airport near London. It was in the luggage of Canadian couple Ken and Julie Lloyd, who had to hand the gun over. The soldier had to travel without protection as the airport mailed the gun to their Ontario home.
"My wife Julie asked the staff to take a reality check," Ken.
The toy, a crouching army signaler, was a gift for Ken who said had recently retired as a signaler from the Canadian army.
It was originally the thin, metal antenna that caught security's attention. Security personnel and a supervisor then saw the gun and said it was a "weapon," despite not having any moveable parts nor a hole down the gun barrel, Julie said.
The couple bought the toy at the Royal Signals Museum at Blandford Camp in Dorset.
"The military museum takes security very seriously, especially around military installations and airports, but this does seem more than a little excessive," museum curator Adam Forty said. "It is probably just as well we didn't sell Mrs. Lloyd a toy tank."
The incident actually happened in 2009 but recently came to light when Julie shared the story with the museum.
An airport spokeswoman told that firearms and items that appear to be firearms are prohibited.
"There are lots of reasons an item could be prevented from going through security," she said.
A Huffington Post poll taken by readers disagreed as almost 94 percent said it was "stupid," compared to about 6 percent who said it was understandable and security was just following the rules.
Follow Emirates 24|7 on Google News.