Best of Web: 17 years old and 22 inches tall...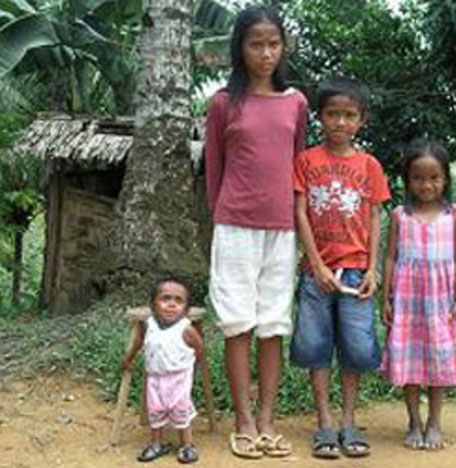 Philippines: Meet Junrey Balawing, the Filipino who is about to become the world's smallest man - and a huge star.
At just 22 inches high, the 17-year-old is tinier than a one-year-old.
When he turns 18 on June 12, he will take the title - smashing five inches off the current record.
The titchy teen has not grown since his first birthday, struggles to walk and cannot stand up for long.
But he beams with pride when talking about his likely world record.
He said: "If I were the smallest man in the world, it would be very cool."
Junrey lives with his parents and three younger - but taller - siblings in a village in a remote region of the Phillipines' Zamboanga del Norte province.
He has to stay at home with his mum, Concepcion, while his sisters Jaycel, 13, and Jeanritch, six, and 11-year-old brother Jay-art go to school.
His parents carry him around much of the time. Blacksmith dad Reynaldo, 37, works away for most of the week but when he is home Junrey enjoys sitting on his shoulders and going for a wander in the village.
Concepcion noticed her son's growth was stunted as he neared his second birthday.

Smokers aged nine in UK town
SOUTH WALES: The average age for taking up smoking in Britain's most deprived town is just nine, an NHS study has found.
But many are even younger - like one lad who got hooked aged three because his grandparents thought it was FUNNY to give him fags, the Daily Mail reports.
The shock findings come from Merthyr Tydfil, in South Wales - blighted by few jobs, poor wages and dependence on benefits.
Researcher Tracey Bowen said of the findings: "Unfortunately it is realistic. I had a patient who started between two and three.
"His parents gave him cigarettes because they thought it was funny."
The study was carried out after medics noticed the high number of tobacco-related illnesses in the former industrial town.

Hooker nurse is struck off for six months
(AGENCY)
CARDIFF: A nurse who touted herself as an escort was struck off today for six months.
Emma Marsden, 35, was found guilty of advertising sex for sale as "Lucy Love".
The married mother-of-three was rumbled when a rival sex worker blew the whistle on her after she started working her patch.
Staff nurse Marsden pretended she was sick and gave her NHS bosses notes saying she was too unwell to work the wards at Whitchurch Hospital in Cardiff.
But she had actually set herself up as a £120-an-hour escort on websites offering sex in a "discrete girlfriend experience".
She even "boasted" to other sex workers that she was still on full NHS pay, a Nursing and Midwifery Council disciplinary hearing was told.
The ruling means she could be back at work as a nurse in September.
Marsden, who advertised herself as a 38DD willing for sex with "gentlemen, ladies and couples", claimed she was just exploring the possibility of a new career.

Girl reunited with family 58 years on
LONDON: A runaway who vanished 58 years ago has been reunited with her family after being traced by cops probing a murder.
Florence McLellan, 75, was 17 when she escaped from a mental institution after being sent there by her parents for falling pregnant.
The teenager hitched to London from home county Lancashire and set up a new life as Diane Roberts.
She was so scared of being sent back to the hospital, she never got in touch with her family.
Then last year, the remains of a woman killed decades ago were discovered in Manchester.
Police appealed for help and Florence's family contacted them, fearing that it was her.
DNA proved it was not a relation - but cops then received a tip that Florence could have gone to London as Diane.
They tracked her down with a phone call and put the family in touch. The gran of five has now had a reunion with her sister and other relatives. Son Glyn Roberts, 43, told The Sun: "It was a lovely moment, heart-warming with a lot of tears."

I blew legacy on choc
NORTH WALES: Sweet-toothed Mary Tetley blew a £10,000 legacy from her mum in three months - on chocolate.
She ate her way round Europe's choccie hotspots, including Belgium, Switzerland and France, reports The Sun.
Mary, who put on two stones, told the daily: "Chocolate has always been my all-consuming passion. I was eating at least 12 luxury sweets every day. It was pure bliss."
Her mum Thelma died at 73, leaving her three daughters £10,000 each.
Mary, 45, believes Thelma would approve of her trip, saying: "She loved chocolate too but couldn't eat a lot as she was a diabetic."
The mother of one, of Denbigh, North Wales, is now opening her own chocolate shop.
She was quoted by the paper as saying: "Mum told me to live my dream and that's what I've done."


2nd royal wedding plans revealed
(GETTY IMAGES)
BRITAIN: Zara Phillips and her rugby international fiance Mike Tindall are to marry in Edinburgh in the summer, Buckingham Palace confirmed today.
The Queen's granddaughter and her partner will wed at the Canongate Kirk on July 30 - a venue and date widely reported in the media after a couple changed their plans to accommodate Zara.
It emerged earlier that Tindall's best man will be fellow player Iain Balshaw, who was part of England's rugby World Cup-winning squad.
Tindall, who is captain of the national side, popped the question to his 29-year-old partner just before Christmas at their Cheltenham home in Gloucestershire.
The couple met in a Sydney bar during the 2003 Rugby World Cup through Miss Phillips's cousin Prince Harry.
Their friendship blossomed into a romance and Tindall, 32, has claimed that it was his "pure charm" that won the royal's heart.
Follow Emirates 24|7 on Google News.