Best of Web: Model 'tells' all about Charles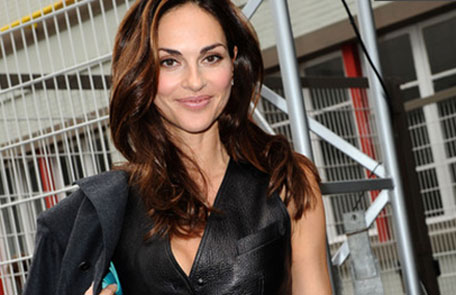 Model 'tells' all about Prince Charles in her autobiography
(AGENCY)
LONDON: Prince Charles allegedly flirted with an exotic supermodel before asking her to perform a 'private catwalk show' for him, Daily Mail reports.
Tasha de Vasconcelos, who hails from Mozambique told the daily that the Prince propositioned her under the nose of Camilla Parker Bowles at an exclusive party.
The 42-year-old model and actress claims in an autobiography to be published this week, that the duo have shared a series of amorous exchanges with Charles, now 62.

This bank has no locks
AHMEDNAGAR, INDIA: Homes in Shani Shingnapur, a temple town of 3,000 residents in the Indian state of Maharashtra have neither doors nor locks. Now the town has its first commercial bank branch with no locks on its front door.
The public sector UCO Bank is the first to throw open the doors of commercial banking to this town. Bowing to local religious sentiments, the bank recently decided to open the branch without a lock on its front door.
The people of Shani Shingnapur fix only door frames, but no doors to their homes and no locks for their safety lockers because of their religious beliefs. And so strong is the belief that no one dares to attempt theft for fear of inviting God's wrath upon himself and his family.
However, as a precautionary measure, some of the six-member staff of UCO Bank posted they take turns to stay within the branch premises all the time.

Billionaire Google founder buys second-hand yacht
LONDON: This man is a billionaire and he has bought his yacht used.
Daily Mail has reported that Google mogul Larry Page has joined the billionaire boat owner club by splashing out $45m on his own super yacht - albeit a used yacht.
Page, 37, picked up the 193-ft boat 'Senses' which comes with a helipad, gym, multi-level sun decks, ten luxurious suites, a crew of 14 and interior design by famed French designer Philippe Starck.
Page, who is worth an estimated $15billion, bought the boat from New Zealand brewing heir Sir Douglas Meyer, said the daily.
It was first launched onto the seas in 1999.

US on guard against chocolate eggs from Canada
(AFP)
OTTAWA: The United States takes its ban on chocolate eggs with toys inside very seriously, a Canadian woman discovered when she was threatened at the border with a 300-dollar fine over a Kinder Surprise, media said Tuesday.
Public broadcaster CBC said Lind Bird was stopped at the US border last month and selected for a random search of her vehicle. Authorities found and seized a two-dollar Kinder Surprise as illegal contraband.
"It's just a chocolate egg," Bird told CBC. "And they were making a big deal. They said: 'If you were caught with this across the border you would get charged a 300-dollar fine.'"
"It's ridiculous," she added.
Ferrero first launched the confection in Italy in 1972, but has been denied access to the US market over concerns that tiny toys hidden inside the eggs pose a choking hazard to small children. The United States also prohibits embedding non-food items in confections.
They have been available in Canada since 1975, as well as several other countries, and are especially popular around Christian holidays.
Health Canada has determined that small children do not have the manual dexterity to crack open the eggs, and so are unlikely to inhale or choke on the trinkets inside that usually require assembly.
Mike Milne, a spokesman for US customs and border protection, said US authorities confiscated more than 25,000 of the treats in 2,000 separate seizures in 2009, the most recent year figures are available.
"It's mostly individuals that bring them across land borders and airports. They come around twice a year, at Christmas and Easter," he told AFP.
While it may seem trivial to some, US authorities followed up with a seven-page letter asking Bird to formally authorize the destruction of her seized Kinder egg, she told CBC.
"I thought it was a joke. I had to read it twice. But they are serious," she said.
The letter reportedly stated if Bird wished to contest the seizure, she would have to pay a minimum 250 dollars for it to be stored as the two sides squabbled over the egg.

Aliens unlikely to upset humans
LONDON: A psychologist has claimed that the modern Earthlings will not be upset by proof showing that extra-terrestrial intelligence exists elsewhere in the universe.
Albert Harrison has said that the first contact with extra-terrestrials (ET), or the discovery of ancient alien relics on Earth or Mars, would probably be met with delight or indifference today, reports the Scotsman.
"The discovery of ETI (extra-terrestrial intelligence] may be far less startling for generations that have been brought up with word processors, electronic calculators, avatars and cell phones as compared with earlier generations," said Harrison.
According to the expert, surveys have suggested that half the population of the US and Europe believes extra-terrestrials exist, and a "substantial proportion" were convinced alien spacecraft had already visited the Earth.
Evidence has suggested that people "feel prepared for the discovery", said Harrison.
The claim has been published in the journal Philosophical Transactions of the Royal Society.
Follow Emirates 24|7 on Google News.