Britain parries threat to Queen's head on stamps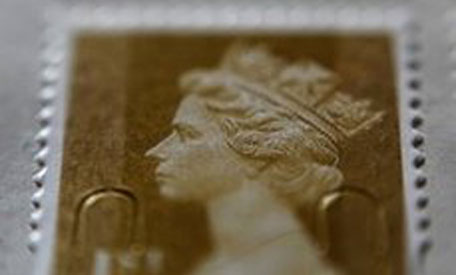 The British government said Sunday it had closed a loophole that could have seen Queen Elizabeth II's head chopped off stamps if the Royal Mail national postal service was sold to a foreign firm.
Ministers have squared the plans with Buckingham Palace and the sovereign's head will be kept on stamps in the future, Postal Services Minister Ed Davey said.
"After listening to views of members of both houses of parliament and the palace, we have agreed this additional safeguard," he told The Mail on Sunday newspaper.
Business Secretary Vince Cable is to unveil the amendments on Monday, the tabloid said.
The previous draft legislation paving the way for Royal Mail to be privatised did not explicitly spell out that the queen's head should remain on the iconic stamps.
The bill gave Queen Elizabeth a veto over any use of her image but did not insist that, as per tradition, her head was shown.
Royal Mail chief executive Moya Greene said: "It's unthinkable Royal Mail stamps would not have the image of the monarch so we strongly support any measure that protects that key feature."
The monarch's head, facing left, has appeared on British adhesive postage stamps since their invention with the 1840 "Penny Black", featuring queen Victoria.
In a bid to secure its future as Britons increasingly use email instead of sending letters, the cash-strapped government wants to sell off Royal Mail to give it an injection of private sector capital.
German and Dutch firms are thought to be among the front-runners to buy the service, The Mail on Sunday reported.
The British stamps are the only ones in the world that do not carry the country's name - just the portrait of the sovereign.
The current standard stamps, drawn up in 1967 by Alan Machin, are considered a design classic and a defining icon of Britain recognised around the world.
Follow Emirates 24|7 on Google News.