Britain's 'biggest ever fox' caught, killed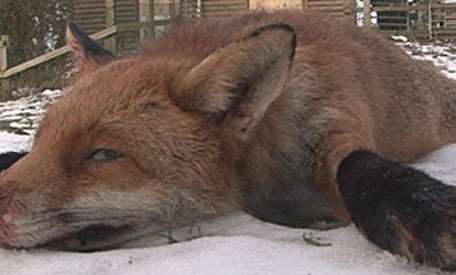 A fox, believed to be the biggest ever found in Britain, was caught and killed after it apparently ate a family's pet cat.
The giant creature was twice the normal size of its species and weighed a massive 26.5 pounds.
It was four feet long - which is the same height as an average seven-year-old child and approximately the size of a coyote, dingo or Iberian lynx.
The animal was caught on Boxing Day by veterinarian Keith Talbot, who had laid a trap with food, while he spent Christmas vacation at his parents' home in Maidstone, southern England.
The fox's capture raised fears the animals were getting larger and bolder, as they continue to have easy access to discarded food from suburban homes.
Talbot spoke about the suspected attack by the fox on the family's cat. "The cat was on the doormat when they [his parents] went to bed and heard some commotion. They saw a fox going up the drive later on that night, but didn't think anything of it. Later that morning, they came out and there was fur and bits of the cat everywhere," he said.
The veterinarian caught two foxes after setting the trap. Both animals were humanely destroyed.
Follow Emirates 24|7 on Google News.