An unlucky man has been struck by lightning seven times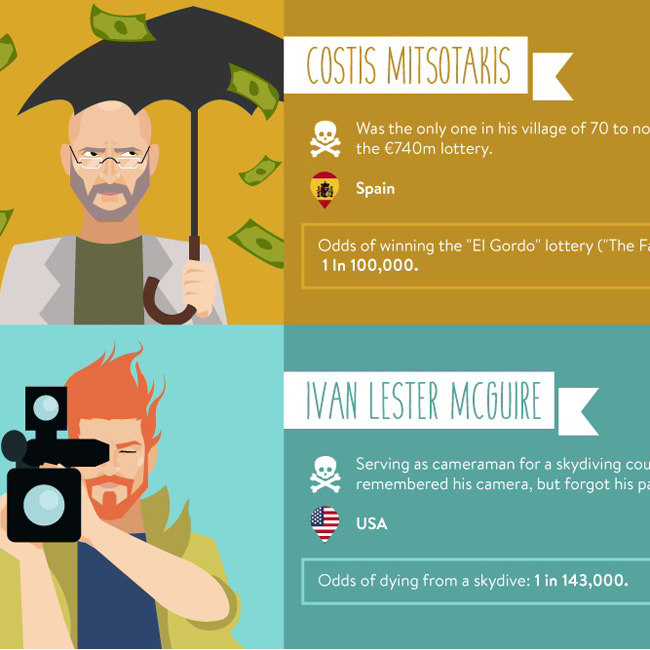 An infographic has been published featuring the world's most unluckiest people, and a man who has been hit by lightning seven times is one of them.
A new infographic has been put together to shine a light on the most outlandish and unfair circumstances people across the globe have been victim to.
The set of bizarre ordeals range from receiving double snake bites to being on board three sinking ships, including the Titanic.
It also includes close calls like Frane Selak, who came away unscathed from seven horrific accidents, while Ann Hodges was one of only two people in all of history to be hit by a meteorite, although she didn't get to retain any memorabilia.
Other unlucky people include Roy Sullivan, who has been hit by lightning seven times, with the likelihood being one in 22 septillion, whilst Erik Norrie was attacked by a shark, struck by lightning, and bitten by a rattlesnake over separate occasions, with the odds being 1 in 11.5 million for the sea attack, 1 in 3000 for the electrifying ordeal, and 1 in approximately 37,500 for the reptile incident.
Melanie Martinez lost four homes to hurricanes, and then after a $20,000 makeover for her fifth, she lost that one too - with only a four per cent chance each year of being hit by a hurricane in Louisiana.
Follow Emirates 24|7 on Google News.