BMWs common in Gangnam: Koreans splurge on Bentleys, Maseratis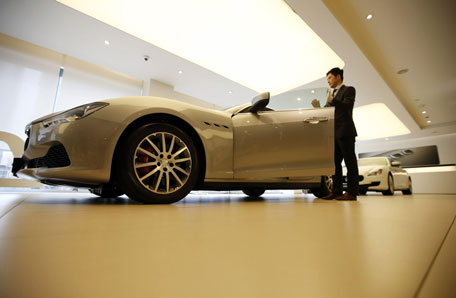 Flashy Maseratis and Bentleys are fast becoming the cars of choice for young, monied South Koreans, eclipsing German luxury brands now so commonplace that some in Seoul's upscale Gangnam district jokingly refer to a BMW 5-series as a Hyundai Sonata.

Driving the sales of six-figure plus cars is a growing acceptance of conspicuous consumption in the conservative home of Hyundai Motor Co, where more younger, affluent Koreans are turning their backs on their parents' frugal ways.

"While our parents saved a lot in the past, younger people nowadays spend on things they can enjoy," said chef-restauranteur Song Ji-hoon, who last year sold his Mercedes-Benz CLS to buy a Maserati Ghibli.

"The street is now flooded with German cars. My car is not something one can see often," Song, 34, told Reuters.

Last year, the Seoul dealership of Volkswagen unit Bentley Motors was the top global seller of Flying Spur sedans, which start at just under quarter of a million dollars. The outlet, in Gangnam, ranked second in overall sales behind one in Dubai.

South Korea is also the seventh-largest market for Fiat Chrysler's Maserati, which saw sales increase five-fold last year to a record 723 cars after the brand introduced its Ghibli sports sedan, which starts at around $90,000.

"Korean consumers now want to flaunt themselves," said Kevin Kang, chief operating officer of the joint dealership for British luxury brands Aston Martin and McLaren Automotive which will open in the first half of this year in Gangnam.

"There lingers antipathy towards the wealthy, but at the same time there is aspiration to be wealthy," he said.

Imported luxury vehicles were relatively scarce in South Korea before a trade deal which took effect in 2011 unleashed an influx of high-end mainstream German cars from the likes of BMW , Audi AG, and Daimler AG's Mercedes-Benz.

While South Korea is the 11th largest car market, it ranks in the top four for certain top-end models such as Audi's A8 and the Mercedes-Benz S Class line, according to the companies.

Sales of imported vehicles priced above 100 million won ($91,100) grew by a third in 2014 from a year earlier to 14,975, the Korea Automobile Importers and Distributors Association says, a figure that excludes Maserati, Lamborghini and Ferarri, which are not association members.

Sales of foreign brands priced 150 million won ($136,339) and above nearly doubled last year, as more wealthy drivers sought "ultra-premium" cars to flaunt their status, a trend mocked and celebrated in Psy's 2012 hit song "Gangnam Style".

"There is a strong me-too-ism in Korea. People follow what other people are buying," said Andy Bae, senior analyst at automotive research firm IHS, which expects South Korea's ultra-luxury car market to grow 45 percent by 2017.

South Korea's overall car market grew 8 percent last year.

The number of South Koreans with assets exceeding 1 billion won doubled to about 167,000 in 2013 from five years earlier, according to KB Research. This rising wealth, coupled with younger peoples' desire to stand out in a traditionally conformist society, is encouraging luxury automakers.

Koreans are also marrying later and often rely on parents for housing, leaving many with the means to splash out on flashy purchases.

"As consumers get younger, they are less shy about something that stands out," said Kim Eui-young, a sales manager at the Maserati dealership in Gangnam, which opened in 2007.

Some ultra-luxury cars owners, however, prefer discretion.

A businessman in his 40s, who did not want to be identified, said he bought a blue Ferrari 355 Spider to enjoy on weekends. He also owns a Porsche and a Maserati, but drives a Hyundai SUV to work every day. "People are looking at my cars," he said. "But my employees do not know."
Follow Emirates 24|7 on Google News.