Burger King downs Twitter account after attack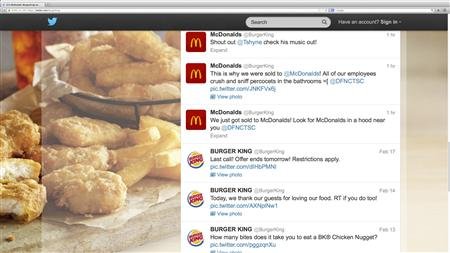 Hackers breached the Twitter account of fast-food chain Burger King, posting the online equivalent of graffiti and sometimes making little sense.
Burger King Worldwide Inc suspended its Twitter account about an hour after it learned of the attack at 12:24 p.m. EST on Monday, company spokesman Bryson Thornton said in an email.
"It has come to our attention that the Twitter account of the BURGER KING® brand has been hacked," the company said in a statement. "We have worked directly with administrators to suspend the account until we are able to re-establish our legitimate site and authentic postings."
Several tweets carried the logo of Burger King's larger rival McDonald's, but spelled the latter company's name incorrectly. Others sought to tarnish Burger King, the third-largest U.S. hamburger chain, and its employees.
"Just got sold to McDonalds," one tweet said, adding "FREDOM IS FAILURE".
Follow Emirates 24|7 on Google News.