Crazy World: Babysitter bludgeoned girl to death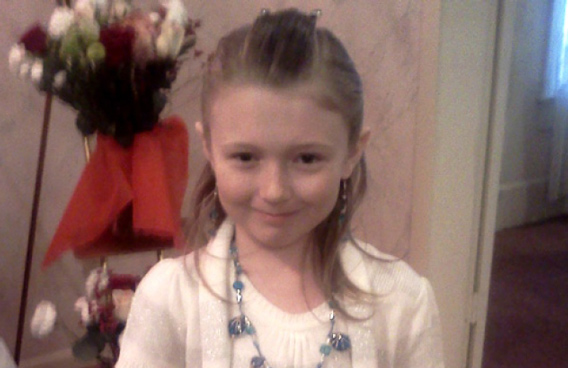 A babysitter and trusted neighbor has confessed that he bludgeoned a 9-year-old Indiana girl to death with a brick then dismembered her, hiding her head, hands and feet at a home where he was staying and dumping the rest of her remains nearby, police said Tuesday.
Allen County sheriff's investigators said in an affidavit that 39-year-old Michael Plumadore admits he killed Aliahna Lemmon on Thursday, reports AP.
According to the affidavit, Plumadore told police that after beating Aliahna to death on the front steps of the home in the early morning hours, he stuffed her body into trash bags and hid her in the freezer at the home in a rundown trailer park in Fort Wayne. He said he later chopped up her body with a hacksaw and stuffed her remains into freezer bags.
Police said Plumadore told them he had hidden Aliahna's head, feet and hands at the trailer and discarded her other remains at a nearby business. Police obtained a warrant to search the trailer on Monday and found the body parts.
Authorities didn't say Tuesday why Plumadore killed the child, but Sheriff Ken Fries said investigators suspected Plumadore was involved since soon after she was reported missing Friday night.
Investigators questioned him Friday and Saturday and he was arrested Monday after being interviewed by detectives for several hours more.
16-yr old gangraped in moving car
A 16-year-old girl was abducted by two men and raped in a moving car in Kanjhawala area of northwest Delhi on Friday, according to the Times of India.
The accused are said to have pushed the girl into a car and drove around the neighbourhood taking turns to rape her, police said.
The report stated that the car zoomed past scores of pickets and police barricades, but was not stopped even once. After four agonizing hours, the girl was finally dumped by the wayside.
The accused, named as Amit and Manoj, have been held.
The girl, a school dropout, lives with her parents and three sisters in Kanjhawala area. One of the accused, Amit is a transporter while Manoj is a driver.
Mum forces daughter into prostitution

MUMBAI: Sixteen year old daughter was forced into prostitution by her own mother.
The mother emotionally threated to harm herself by burning or cutting if the daughter did not agree to do what she wants.
Police arrested a 49-year-old woman for forcing her daughter into prostitution by emotionally blackmailing her.
The accused Poonam Manish Mhatre used to slash her veins, and even pour kerosene on herself in retaliation to her daughter's refusal to solicit customers.
The victim dropped out of school and was forced into prostitution, according to MidDay.
She feared that her mother would harm herself if she did not comply to her wishes. Since then she was forced into the business of human flesh.
But after 9 years of trauma and ever-increasing demand to entertain customers, the victim finally broke her silence and approached the cops for help.
4 hospitalised after taking illegal sex drugs
SINGAPORE: Four patients between the ages of 30 to 78 years old have been admitted to hospitals with dangerously low blood sugar levels due to the consumption of illegal sexual enhancement health products.
The Health Sciences Authority (HSA) said, two of them were unconscious upon arrival at the hospitals and the other two were confused and weak.
One of the patients who was initially unconscious is in a "non-communicative state", while the other is only capable of holding simple conversations.
It is reported that the tests revealed that their urine and blood contained glibenclamide.
HSA determined through investigations that these cases are likely related to the consumption of illegal sexual enhancement health products.
Glibenclamide is frequently used as an adulterant in such products, which include Power 1 Walnut, Singapore Power 1, fake Cialis and Santi Bovine Penis Erecting pills.
As Glibenclamide can cause a person's blood sugar to drop from normal to dangerously low levels, it can leads to serious adverse effects such as seizures, coma and death. Hence, the medicine is a controlled substance that should not be present in non-medicinal health products under the Poisons Act.
'Divorce Hotel' offers divorce in just 2 days
NETHERLAND: A hotel in the Netherlands that offers quick and cheap divorce is proving popular among couples who are desperate to end their marriage.
The 'Divorce Hotel' helps husbands and wives to arrange all the necessary legal documentation to end their marriage over the course of just two days.
They meet a mediator and series of lawyers behind closed doors who will split assets, agree alimony payments and arrange visitation rights - all for a fixed fee, Foxnews reported.
Entrepreneur Jim Halfens behind the concept said he spotted a gap in the market in a country where the average divorce can easily run into five figures and take months to complete.
When the couple leaves the hotel, all work is done. The only thing that happens then in Dutch law is that they have to show the agreement to a judge in the Netherlands and that takes a couple of weeks.
He uses a number of high-end boutique hotels around the country, including the smart Carlton Ambassador Hotel in The Hague.
Sales manager Ninke Bons explains that the couples, who often check in together, but mostly choose to stay in separate rooms, are handled with care by the staff.
Couples have to apply to use the process and are rigorously screened by the divorce hotel legal team. If the husband and wives are squabbling, or barely on speaking terms, they are deemed unsuitable for the process.
Baby killed as dad reverses vehicle
MALAYSIA: A year-old toddler was killed when her father's four-wheel-drive vehicle backed over her on Monday.
In the evening the baby was believed to have been playing behind the vehicle when her father Jais Selamad was reversing it.
Jais, 45, stopped his car as soon as he felt that it had hit something.
He was shocked and heart broken when he found his baby lying under the car with her head bleeding profusely.
The father rushed the victim to hospital, reported AsiaOne.
He said he was not aware that the baby was outside.
The victim died on the spot due to serious head injuries.
Follow Emirates 24|7 on Google News.