Crazy world: Man boards bus with 600 snakes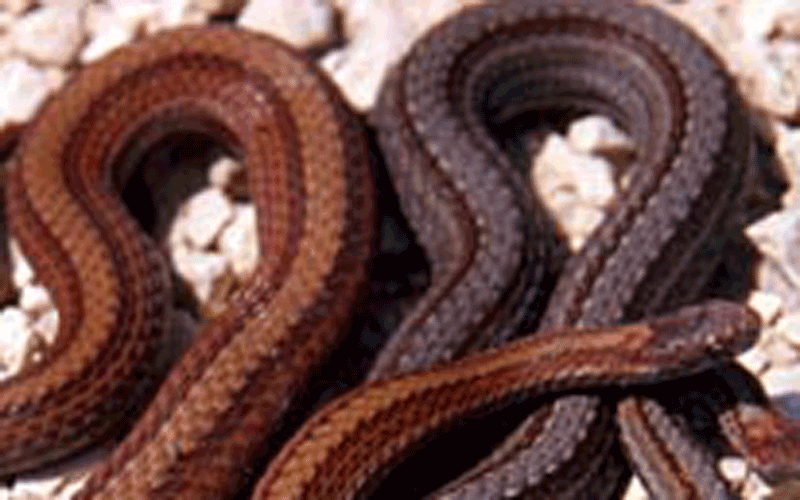 Passengers on a bus in Argentina got an unwelcome surprise when police found more than 600 snakes and other reptiles packed in the luggage compartment, a ranger said Saturday, reported AFP.
Acting on a tip-off, police intercepted the bus in a northern province bound for Buenos Aires, asked to see passengers' documents, then began poking into their bags.
"A passenger came onboard with 40 snakes, plus what he had in the boxes" in the bus luggage hold, said ranger Daniel Chersich, warden of Santa Fe province. Police "were terrified of opening the bags," Chersich, who was investigating a wildlife trafficking network and joined in the operation, told the daily Clarin. With good reason.
The trafficker had loaded them with 444 boas, vipers and other snakes; 186 endangered tortoises; 40 lizards, and an armadillo.
The smuggler, who was arrested, boarded the bus in Santiago del Estero, where he had spent three months trapping various species in the bush with the intent of selling them, Chersich said.
Bored student yawned so hard that she couldn't close her mouth
Holly Thompson (AGENCIES)
A teenage student at Northampton School for Girls yawned so deeply during a class that her mouth got stuck wide open and she had to be taken to hospital.
Seventeen-year-old Holly Thompson dislocated her jaw and found herself unable to close it again, reported 'Daily Mail'.
She alerted a friend who tried to close it, but it hurt her. She said: "I nudged my friend to show her what had happened but I was so embarrassed. When we realised we couldn't close it, she had to tell the teacher."
The doctor managed to wedge open the 17-year-old's mouth - and it seemed to do the trick Sore point:
The student had to wait for some time before the splints were removed - and her jaw was cracked back into place "All my classmates and teachers thought it was really funny, everyone burst out laughing. It was awful."
First Holly was taken to a school nurse who was unsuccessful and so latershe was taken to hospital.
The unusual method, performed by Dr Ejiro Obakponovwe, opened the jaw enough to unlock it and Holly has since recovered.
The teenager said: "It was really bad at the hospital. I had to sit in the waiting room with a scarf over my mouth so nobody could see what had happened. It was really difficult to communicate with doctors as well. I thought they were just going to give me some medicine, not put splints in there."
In total, her jaw was stuck for five hours.
Wife's greed forces man to donate all his money
In an ultimate revenge on his estranged wife, the man gave every cent to charity and claims to have put all his bank statements in a bucket of water and made papier mache out of them, a court heard.
He blames the his wife's greed for ruining his marriage, reported 'Perthnow'.
The 58-year-old man sold their house for $395,000 and gave the amount to charities.
The man, 58, also has boasted he put all his bank statements in a bucket of water and made papier mache out of them.
The man told the Federal Magistrates' Court, in Victoria, that he bought hundreds of envelopes and posted $395,000 in donations.
He said he was now jobless, with $2000 in the bank, a $1000 car, and land worth $10,000.
After their relationship broke down, the woman went to court because she was concerned about what had happened to their cash.
By the time the case got to court, the husband revealed in an affidavit that he had disposed of it all.
In a handwritten note, he later claimed to have donated it randomly.
"I did it in an emotional way as I saw the greed of money destroying our marriage," he wrote in a submission to the court.
The man also disclaimed his interest in his dead mother's estate.
The man told the court he gave the money away anonymously to "eliminate the cause of the divorce".
"I bought about 300-400 envelopes, stamped envelopes," he told the court.
"I put a random amount in each. I put charity names and addresses and I sent them out. Some I delivered, some I put in charity boxes. I distributed it in a random fashion."
The man's identity is not revealed.
11kg woman dies...was she hidden away?
Detective Inspector Denise Gray, officer in charge of Sturt CIB. Source: AdelaideNow and (AGENCIES)
A woman in Adelaide who passd away last month weighed just 11kgs. And neighbours of the 27-year-old never knew she even lived there.
According to 'Adelaidenow', the young woman suffered from a number of disabilities, including scoliosis, and was bedridden in the home she lived in with her parents and one relative.
One of her neighbour's said: "I think it's sad that we didn't know the woman was living there. I wish I had known. Maybe they needed help and they just weren't getting it."
"The first time I saw anyone there was a couple of days ago ... a couple went out riding bikes," the neighbour said.
Another neighbour said she saw the woman's father outside the house on the morning of Saturday, March 19, waiting for the ambulance to arrive.
Police are investigating the cause and circumstances of her death.
Legal experts have suggested criminal charges could be laid, depending on the findings. The girl's parents are professionals in the education sector.
The woman's brother said the property was his parent's house and he had no knowledge of the issue involving his sister.
A work colleague of the father refused to comment, while the mother was not at her workplace.
Professor Tim Olds, from the University of South Australia's School of Health Sciences, said a weight of 11kg was "simply not possible". "I've written quite a bit about this. I've looked at records from death camps and starvation cases and that's simply not possible."
Teen mom accused of murdering her baby
A 19-year-old girl is facing trial after she allegedly murdered her baby by stabbing him six times with a pair of manicuring scissors, reported 'Perthnow'.
The teenager from NSW central west, gave birth to the baby boy at her home in Canowindra last week. Following blood loss, she was rushed by her family to hospital with the full-term baby.
Police allege a post mortem revealed the baby died as a result of numerous puncture wounds to the chest. The teenager has been arrested and charged and refused bail.
Follow Emirates 24|7 on Google News.