Girl mistakes chameleon for crocodile, calls police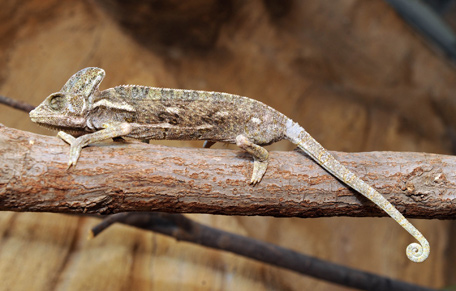 A chameleon in a house garden scared a girl in Abu Dhabi, after she mistook it for a "crocodile".
She contacted Abu Dhabi Police via the Operations Room, and reported that a "crocodile" was found in the garden of her family's house "sticking out its tongue", and preparing to attack her, she told the police on the phone
The police mobilised its force and made its way to the reported site, accompanied by the specialised authorities, where they discovered that the animal that was "sticking out its tongue" was nothing but a pet chameleon that had escaped from a neighbouring house into its neighbour's garden.
A police woman calmed the girl down, and assured her that there was nothing to fear.
Abu Dhabi Police stated that they handle all reports with extreme care and seriousness to prevent any potential risks that members of the community may face.
They are calling on all the local animal and environment authorities to spread more environmental awareness amongst members of society and improve the methods of raising and keeping animals, and urged that they take the necessary precautions to prevent pets from escaping on to the roads and streets and from sneaking into neighboring houses, in order to protect the safety of those pets and prevent them from scaring other individuals.
Follow Emirates 24|7 on Google News.