Library prank sends Armstrong books to fiction section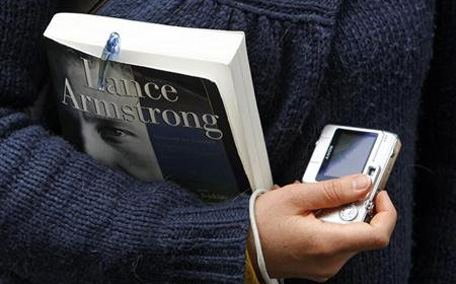 A prank note in an Australian library declaring that disgraced cyclist Lance Armstrong's books would be moved to the fiction section has gone viral on the Internet, with one commentator declaring: "Hell hath no fury like a librarian".

"All Non-Fiction Lance Armstrong Books, including 'Lance Armstrong - Images of a Champion', 'The Lance Armstrong Performance Program and 'Lance Armstrong: World's Greatest Champion,' will soon be moved to the fiction section," read the sign posted at Sydney's Manly Library on Saturday.

A photograph of the sign posted on the Internet quickly sparked heated debate over whether Armstrong's fight against cancer and motivation of people outweighed his drug cheating in a sport rife with doping.

"As a cyclist the guy's work was inspiring, his foundation do amazing work and his story was great. ... You feel embarrassed for recommending his book to people, you stare at the books on the shelf questioning if the lessons and the inspiration is honest and real," said one commentator.

Manly Library said the printed notice, which was placed in a plastic stand on a bookshelf in the library, was a prank and that an internal review was underway.

"Libraries can't arbitrarily reclassify categories of books, because that depends on the ISBN number that is issued by the National Library," a spokesman at Manly Council, which runs the library, said on Monday.
Follow Emirates 24|7 on Google News.