Man eats one 4,000 calorie meal a day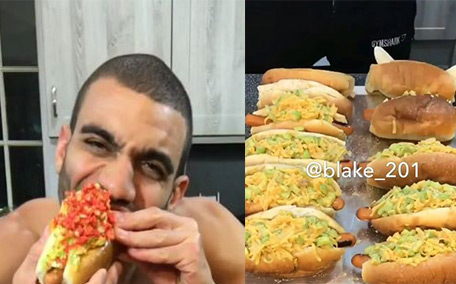 A fitness fanatic male eats 4,000 calories in one meal every day and livestreams the event on Instagram.
Blake Horton is proud of his fit physique and admits that the only time he eats is in one sitting at 2am every morning where he gorges on giant 4,000 calorie meals such as burgers, pizzas, and banana splits.
The muscly hunk livestreams his late night feast on Instagram to his 163,000 followers, and says he takes on the hefty meal in order to let him "have fun" throughout the day after he was left feeling miserable on a regular diet.
He said: "My social life was gone, I remember standing in the kitchen one night and being like 'Is this what you've got to do to keep abs?'
"My friends would call me to go out and it would be like 10pm and I had no calories left to spend to go out drinking and having fun, so I was like 'ah no I'll stay in'. I was constantly staring at the clock waiting for my next meal, I was hungry all the time."
And Blake says his health is "perfect", despite scoffing down a whole host of treats in one whopping meal.
He added to Daily Mirror newspaper: "I save up all my calories and spend them all in one shot. Where regular people eat three meals a day, I get all my nutrients, carbs, fats, proteins, micro nutrients, fibre, everything all in that one big monster meal.
"I enjoy myself a lot more now, and my health is perfect."
Follow Emirates 24|7 on Google News.