Man saves shark with 12 inch knife in its head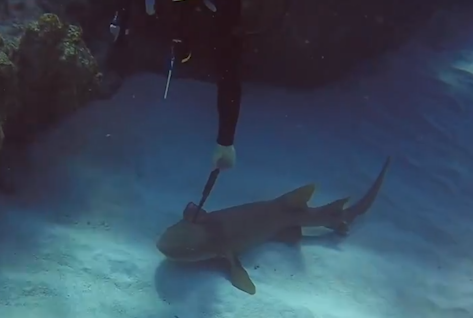 A man has saved the life of a shark with a 12-inch knife embedded in its head.
Ben Johnson was diving with a group of tourists in the waters of Cayman Brac in the Cayman Islands when he noticed the three-foot long shark swimming around the sea floor.
Ben believes the shark was "asking for help" as it settled below him with the large knife lodged in its head.
He told local news station Cayman 27: "Obviously something wasn't right and I moved in for a closer look. At that point, the shark turned around and settled right below me as if asking for help.
"People come to Cayman to see our beautiful reefs... no one expects or wants to see a shark with a knife sticking out of its head."
Shark fishing has been banned in the Cayman Islands since 2015 and anyone caught doing so could face a whopping $500,000 fine or four years in prison.
Ben successfully removed the knife from the shark's head, and Cayman Brac Beach Resort say the creature "seems to be doing all right."
They said in a post on Facebook: "Fortunately, the shark seems to be doing all right and we even spotted him again swimming around the same reef.
"Our entire reef divers team hopes this reminds others to respect our beautiful underwater friends, which are a protected species in the Cayman Islands."
Follow Emirates 24|7 on Google News.