Nasa's 'Mohawk Guy' has prime seat at State of the Union address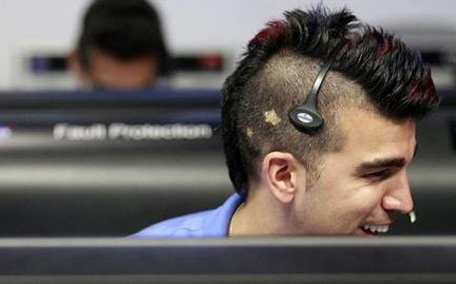 Spike-haired Bobak Ferdowsi, the Nasa flight engineer popularly known as the "Mohawk Guy," is boldly going where few space geeks have gone before.
Veronica McGregor, a spokeswoman for the U.S. space agency's Jet Propulsion Laboratory in Pasadena, California, confirmed on Tuesday that Ferdowsi had been invited to join first lady Michelle Obama to watch the president's annual State of the Union address to Congress.
He will be there among other Americans that President Barack Obama wants to highlight on Tuesday night, McGregor said.
When it comes to hairstyles, that means that the first lady's new-look bangs could go largely unnoticed alongside the outrageously coifed engineer.
"He still has the Mohawk. He was in the inaugural parade," McGregor said, when asked if Ferdowsi was still wearing the punk-rock-style hairdo that made a big impression on viewers glued to live TV and Internet coverage when he became the face of NASA's latest Mars rover mission last summer.
"He's had it all re-cut. I don't know if he'll have any side designs on it like he sometimes has, but definitely it is still a Mohawk," she said.
Ferdowsi's Mohawk was dyed red and blue and adorned with stars and stripes during the much-vaunted landing of the Mars rover Curiosity in August.
A native of Oakland, California, with a graduate degree from the Massachusetts Institute of Technology, Ferdowsi was not immediately available to comment on being chosen to sit in the first lady's seating section for the State of the Union.
Back in August, he told Reuters he would not work for NASA if it was the same "stodgy" space agency it was known as in the past.
"We're still nerds and geeks here. There's no doubt about it. We're just a little more comfortable expressing ourselves," Ferdowsi said.
Follow Emirates 24|7 on Google News.