New Guinness World Record for largest continuous concrete pour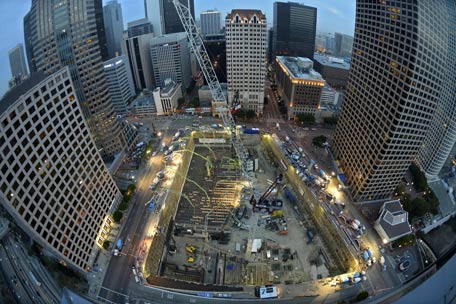 Workers in Mississippi have broken the world record for the largest continuous concrete pour while laying the foundation for the tallest building, a Guinness World Records adjudicator said Sunday.
Round-the-clock pouring started around 4pm Saturday with 208 trucks making more than 2,100 trips and pouring 82 million pounds of concrete during an 18 1/2-hour period.
21,200 cubic yards of concrete were poured by 11.30 am, beating the existing record of 21,000 cubic yards set by The Venetian hotel in Las Vegas in 1999, Guinness World Records adjudicator Michael Empric said.
Once finished, the skyscraper will soar 1,100 feet (335 meters), making it the tallest structure west of the Mississippi. It will boast a 900-room hotel, convention space and offices. There also will be an outdoor terrace and a swimming pool on the 73rd floor.
The project, estimated to cost more than $1 billion, has been a huge undertaking.
Earlier story:
For the past several months, crews have prepared the site by digging an 18-foot (5 1/2-meter)-deep pit and lining it with 7 million pounds (3.18 million kilograms) of reinforcing steel. They will then add 84 million pounds (38.1 million kilograms) of concrete.
Because the concrete must be poured within 90 minutes of being mixed, trucks must arrive on time. In case of freeway jams, alternate routes have been mapped.
After the last truck leaves, it'll take about two weeks for the concrete to fully harden. Because concrete heats as it cures, crews will pump water to keep it cool. Backup equipment is on site in case anything fails.
Follow Emirates 24|7 on Google News.